The Ellis Hotel Defines what Sets Boutique Hotels Apart from the Rest with Slide Show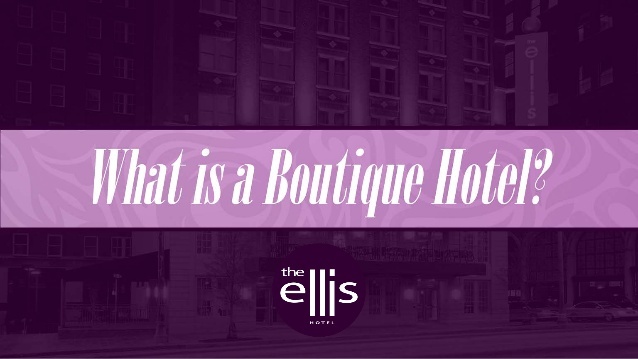 July 11, 2014 - Over the past few years, the travel industry has seen a boom in boutique hotels, whether from big hotel chains or smaller boutique brands, everyone seems to be jumping on the boutique bandwagon. These unique, non-cookie cutter hotels have been defined in a variety of ways. While smaller sized hotels throw around the term boutique, not all meet the standards. Thanks to the Ellis Hotel, determining what is truly a boutique hotel is easier than ever with their slide show.
The main feature of any boutique hotel is its smaller, intimate size. Many hospitality pros feel that to truly qualify as a boutique hotel, the hotel must not have any more than 125 rooms. Due to its smaller size, the hotel provides a more charismatic, personal feel to the ambiance of the hotel. The cozy size of a boutique hotel allows guest to become better acquainted with the hotel staff and feel more at home in their surroundings. Often, the smaller size works to the hotel's advantage, allowing it to fit in to tight urban centers, gaining key central locations and feeding off the city's ambiance and hot spots.
Many boutique hotels thrive on their independence. Stepping away from the normal hustle and bustle of their franchise counterparts, these boutique hotels focus on providing their guests with a different and unique feel to the hotel. Using specialty décor and styling, the boutique hotel strives to provide its guests with a lasting identity and personalized services. Boutique hotels often focus on providing a vibe and a unique feel. Feeding off of its urban location, a boutique hotel will do its best to reflect the city's culture and style. Partnerships and outsourcing of its dining and bar services provide guests with a true understanding of local food and drink, often hosting critically-acclaimed chefs and bartenders running their unique menus.
Boutique hotels not only stand out in appearance, but also with their services. Less guests means better service for you, allowing hotel staff to work closely with you to provide exceptional personal services to help you feel more comfortable on your travels. Overall, a boutique hotel aims to express singularity with a light-hearted, welcoming atmosphere for their guests and staff alike.
The slide show published by the Ellis Hotel makes it clear as to what sets boutique hotels apart from their franchise or chain hotel counterparts. For an in-depth look into what truly makes a boutique hotel unique, view the slide show at
http://blog.ellishotel.com/sets-boutique-hotels-apart-rest/
.
The Ellis Hotel offers hip and sleek accommodations while remaining true to their traditional roots in downtown Atlanta, Ga. Aiming to bridge together the city's past and present, the Ellis Hotel is the premier choice for guests looking for a truly unique and exceptional hotel stay. Whether you are looking to experience the flavor of downtown Atlanta or seeking a hotel with eye-catching décor, the Ellis Hotel in Atlanta is your top choice. Discover how the Ellis Hotel can make your retreat to downtown Atlanta truly memorable at
www.ellishotel.com
.