Hyundai of Greensburg Publishes Slide Show Highlighting Car Service and Maintenance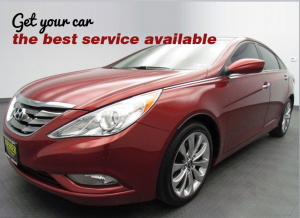 July 19, 2014 - Hyundai of Greensburg, the premier Pittsburgh area Hyundai dealer, has published a slide show illustrating the importance of routine car maintenance and how the expert auto repair service team of a dealership service center can benefit your vehicle in the long run.
The only thing that may be more important than the actual purchase of your new vehicle is the service center you bring your car to for repairs and maintenance. The quality of service your car receives can either make or break your new vehicle. The high quality services from an expert technician at a dealership service center ensure that your car maintains a level of high performance.
Knowing the condition of your car can go a long way in choosing the proper maintenance center and determining the proper service needs. Look to the owner's manual for information about the transmissions, engine, configuration and more technical details about your car. Bring these up when scheduling an appointment with any auto service center. Ensure that the auto technicians and mechanics that will be working on your car are trained, experienced and properly certified.
Taking your new vehicle to an auto service center that is directly connected or associated with a licensed auto dealership ensures that the technicians who work on your car and specifically trained to work on your vehicle model. Rather than using standard, "one size fits all" parts, a dealer service center will instead offer you high quality, original equipment/manufacturer parts that provide your car with a long lasting life while avoiding the hassle of cheaply manufactured parts that may cause trouble in the long-term.
To further explore the slide show, visit the Hyundai of Greensburg dealership blog at
http://blog.greensburghyundai.com/auto-repair-tips-new-vehicle/
.
The service department at Hyundai of Greensburg prides themselves on being some of the most experienced technicians in their field, promising that your car receives the best care possible. With over 15 years of experience, the service team at Hyundai of Greensburg is dedicated to making sure you get back on the road with a safe vehicle running smoothly in no time. Visit
http://www.greensburghyundai.com/service-department/
and schedule your auto service appointment today.
Email Hyundai of Greensburg