MadgeTech's Data Loggers Cleared for Sale in Japan and China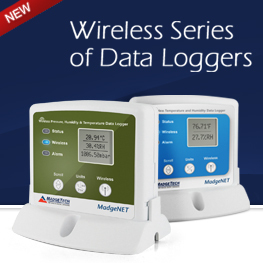 July 31, 2014 - Warner, New Hampshire – Manufacturer of high-quality data loggers, MadgeTech, Inc. is pleased to announce that its RF2000A Wireless series has been certified for sale and use in Japan and China. These data loggers were found to be compliant with the standards of the regulatory bodies of both countries, which officially paves the way for the legal sale of the products in these nations. Japan and China join a still-growing list of 50+ counties, including Germany, Canada, and Australia, that have authorized the distribution of MadgeTech products.
The RF2000A Wireless series of data loggers allows users to capture a wide array of precise information in various industrial and/or laboratory environments. These devices can record many types of data, including temperature, humidity, barometric pressure, pulse output signals, and more. Their wireless design enables users to monitor, record, and transmit data from a broader range of sites and areas than is possible with conventional loggers.
The RF2000A Wireless series constitutes only part of MadgeTech's extensive catalog of data loggers. Other devices from the company's catalog can reliably detect and record data relating to one or more of the following metrics: motion, shock, vibration, voltage, wind activity, water level, and carbon dioxide level, to list only some of the options available. These data loggers have been deployed in a variety of industries, from the automotive sector to the food industry. MadgeTech also provides a number of support services, such as a rental program and NIST-standard data logger calibration.
For further information about the line of products available from MadgeTech, please visit the company's official site at
http://www.madgetech.com/
or call the toll-free number at 877-671-2885.
About MadgeTech
Founded in 1996, MadgeTech, Inc. is dedicated to the development and manufacture of high-quality data loggers and related accessories. Distributed worldwide, the company's line of products includes temperature, humidity, motion, voltage, water level, and wind loggers, among others. MadgeTech is based in Warner, New Hampshire.