Coleman Dentist's Office Advances Services with Digital Technology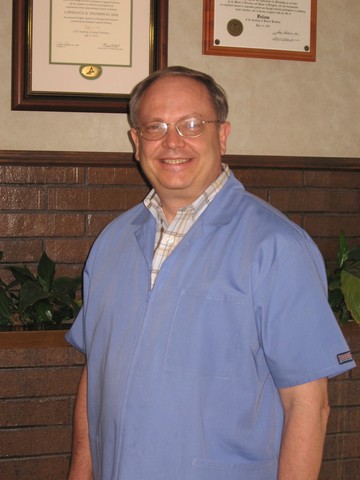 August 6, 2014 - COLEMAN, TEXAS
– Patients can now experience innovative digital treatment planning from Coleman dentist, Lawrence Thompson, DDS.
Advancements in dental technology have now gone digital with improvements in the taking of impressions, oral x-rays, bonding techniques, and much more. Treatment planning technology has become vital to the specialized diagnoses and treatment for patients, and allows the most precision when personalizing dental care by crafting detailed two-dimensional x-ray images of a patient's mouth. With intra-oral imaging, digital x-rays, and big monitors to display each image, patients can look forward to an interactive experience.
Dr. Thompson, a general and cosmetic dentist, explains, "We have a full array of dental services from extractions to root canals to denture services. I've found that providing as much information to patients as possible makes patients feel more comfortable with the procedure they're receiving. This innovative way of caring for patients makes achieving good oral health easier for patients in my community."
The information that Dr. Thompson provides to patients is enhanced with the detailed and digital visual aids he uses to help explain dental procedures. This way, patients can more comfortably achieve specialized treatment plans that will benefit their oral health. With over 90 percent of Dr. Thompson's patients stating they would refer his dental office to friends and family, he leaves a positive impression on those he has served.
Dr. Lawrence Thompson specializes in
cosmetic dentistry
, and provides advanced services using the latest ceramic and bonding technologies. Patients can receive porcelain crowns, bridges and veneers, as well as teeth whitening with the KöR Whitening Deep Bleaching System from Dr. Thompson's office.
"I want my patients to have a say in their dental care, which is why we work together to determine factors such as the size, shape, and color of their teeth during a cosmetic procedure. Our digital services are instrumental in creating better oral health for everyone we treat," Dr. Thompson adds.
For patients who have suffered tooth loss, Dr. Thompson offers
mini dental implants
as an advanced cosmetic procedure. By completely restoring smiles with dental implants, patients can regain full oral function. State-of-the-art technology helps Dr. Thompson to properly design the installation process of implants, keeping patients completely involved in their treatment process and helping to improve both their function and overall wellness.
About Lawrence Thompson, DDS
Dr. Lawrence Thompson is a general and cosmetic dentist in Coleman Texas, and has been practicing since 1979. He has served as a past president of the 17th District Dental Society and is both a Fellow (1992) and Master (2009) of the Academy of General Dentistry.
For more information about the treatments available at Dr. Thompson's Coleman dental office, visit mycolemandentist.com.
Email Lawrence Thompson, DDS