Advantage CCS Publishes White Paper to Help You Control your Finances with Debt Management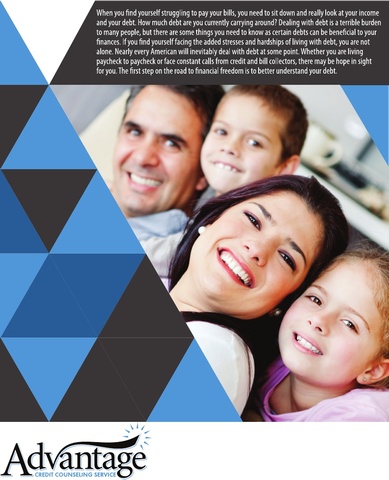 August 5, 2014 - If you are one of the thousands of Americans struggling with their debt, Advantage Credit Counseling Services hopes to help you recapture your financial freedom with their new white paper, "Taking Control of Your Finances with Debt Management."
Whether you find yourself struggling to pay your monthly bills, you live paycheck to paycheck or simply are just in need of better debt management skills, the credit counseling and debt management services offered by Advantage can help you to better plan out a strategy for a stress-free financial future.
Like many problems, the first step to a solution to your debt struggles is to better understand your debt. A certified credit counseling agency can help you to organize and budget both your debts and your income. By clearly understanding how much you owe, a credit counselor can then help you to develop strategies that will pay off your debts in the cheapest way and in the least amount of time.
When beginning to understand your debt, a non-profit credit counseling agency can help you determine which of your debts are good debts and which of your debts are bad debts. Generally, good debts are those that add value to your future financial standing. These debts are often seen as investments towards a better future and typically hold a low interest rate. In contrast, bad debts are accrued with purchases that do not add any future value.
Once you begin to fully understand your debts for what they are and begin to budget your monthly expenses and income, a debt management program can help you get back on track with your finances. A credit counseling session can provide you with a list of your debts and an estimation of how long it will take to pay off each debt. Many debt management programs help make it possible for one to eliminate their debt within three to five years.
To maximize the effectiveness of your debt strategies, check out Advantage's white paper available for download at
www.advantageccs.org/regain-financial-freedom-with-debt-management
.
The certified credit counselors of Advantage CCS have been helping their clients better manage their debts for over 40 years. Offering their reliable and trustworthy financial advice through free online credit counseling allows you to access their debt management plans and programs from anywhere in the country. Learn more about how Advantage CCS can help put you back on the road to financial freedom by visiting
http://www.advantageccs.org/
for free and confidential credit counseling.