DoubleTree by Hilton Hotel & Suites Pittsburgh Downtown Celebrates Launch of Their New Website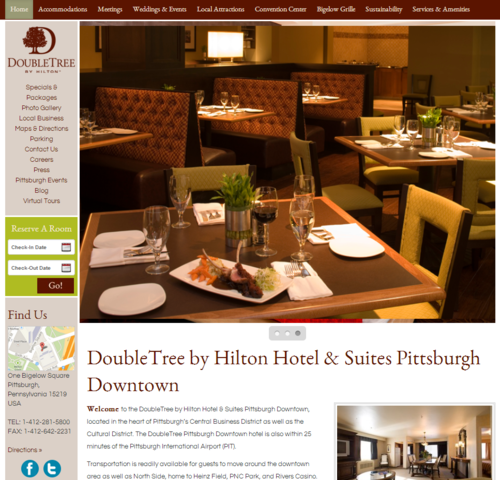 August 8, 2014 - As Google works towards adding increased emphasis on user experience with their search engine rankings, The DoubleTree by Hilton Hotel & Suites Pittsburgh Downtown has launched the latest redesign of their website, aimed to enhance customer experience and overall usability.
The new website features several new additions, ranging from added informational content to a new overall look for the website itself. The DoubleTree Pittsburgh Downtown hopes that these additions and changes will not only come of high use to potential guests, but also serve as a resource for those looking for more information about the downtown Pittsburgh hotel's offerings.
Amongst the changes and additions are the several pages of added content about the unique features of the hotel as well as added information about several local attractions located just a short distance from the hotel. The downtown Pittsburgh hotel suites available at the DoubleTree provide the perfect accommodations for anyone looking into exploring the area's museums, entertainment center, nightlife, sports venues and more.
In addition to the information on Pittsburgh's top attractions, the DoubleTree Pittsburgh Downtown has also provided an increased amount of information on their own services and amenities. At the DoubleTree Downtown Pittsburgh, guests are treated to some of the best accommodations and amenities in the area. The hotel plays as host to an ample amount of meeting and event spaces, making it the perfect destination to host your wedding, business meeting or any other event. The specialized services from the highly trained and attentive team at the DoubleTree Downtown Pittsburgh will help you rest easy knowing your event is in capable hands.
The Bigelow Grille, conveniently located inside the DoubleTree Downtown Pittsburgh, is led by one of Pittsburgh's top chefs, Anthony Zallo. With its daily specials, the Bigelow Grille offers affordable meal in a relaxing atmosphere. The menu offers a twist on modern American Cuisine, changing seasonally to highlight some of the freshest ingredients to create delicately crafted meals.
All hotel accommodations at the DoubleTree Downtown Pittsburgh offer style, luxury and a personal attention to detail from our highly trained staff. Whether you are looking for luxury hotel rooms, family styled suites or business directed accommodations, the DoubleTree Pittsburgh downtown offers the perfect solution to your travel needs. Learn more about what the DoubleTree by Hilton Hotel & Suites Pittsburgh Downtown can offer you by visiting their new website at
www.doubletreepittdowntown.com
.
Email DoubleTree by Hilton Pittsburgh Downtown