Durabak Approved for Use on US Navy Nuclear Aircraft Carriers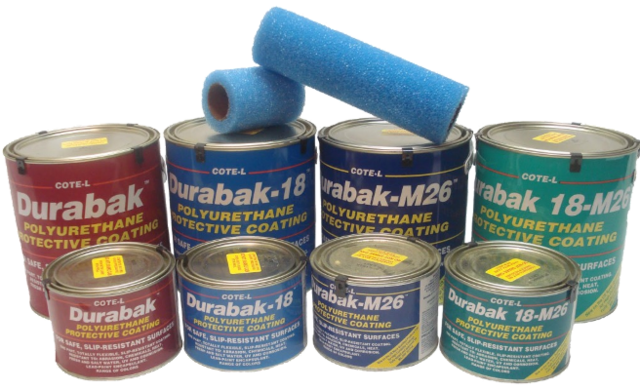 August 8, 2014 - Teaneck, NJ – Homeowners, boat owners and commercial users can now use the same Durabak coating that is on the Qualified Products List for U.S. Navy ships (MIL – 32171B) including nuclear aircraft carriers. This one-part product requires only stirring before use, and can be applied with a special stipple roller, brush or spray. Durabak cures to an impermeable membrane, resulting in a strong, durable coating. The Durabak coating should be applied with a minimum of two coats which is usually sufficient for most applications.
The advantages of using the Durabak coating is that it offers a protective layer that is tough as nails and slip-resistant. In addition to the textured version with rubber tire granules, there is also a smooth version. The coating is easy to apply and bonds to nearly any surface. Durabak comes in 17 standard colors and may be ordered in special colors with larger quantities. At Durabak Depot, free stipple rollers are included with textured Durabak orders of 1 gallon or more.
Durabak can be used for many commercial and domestic applications where durability is important. "Durabak Depot has spent many years developing Durabak for the rigorous use of the Navy and commercial market" says Jacob Strauss, owner of Durabak Depot. Besides marine applications such as boats, gangways, docks and ramps, Durabak is used in many types of vehicles for protection and slip resistance. Other uses of Durabak include warehouse floors, loading docks, helicopter pads, residential decks, showers, steps and many more.
Visit Durabak Depot at
http://www.durabakdepot.com/
to learn more about their line of coatings and the different applications for which they can be used. For additional information about any of their products, call 888-613-4501. You can also use their online contact form to ask related questions or provide them with your feedback.
About Durabak Depot
Durabak Depot is a respected name in the industry, earning an admirable reputation for the Durabak coating products as well as providing reliable and dependable customer service. They stand by their products and strive for customer satisfaction.