Area Entrepreneur Phil Laboon Turns own Misfortune into Positive Spark for Others with Fundraiser Event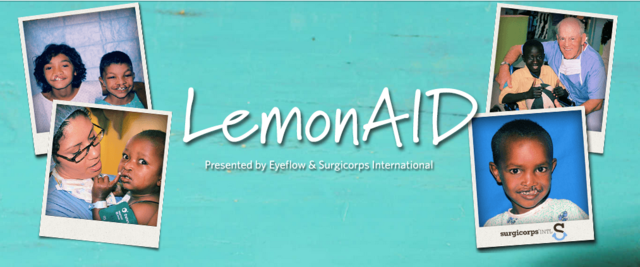 August 13, 2014 - Following his own misfortune, Eyeflow Internet Marketing CEO Phil Laboon has partnered with Surgicorps International to help tackle the "lemons" of life by hosting "LemonAID," a fundraising event to be held August 31 at the Priory Hotel. All proceeds from the event will support an upcoming Surgicorps mission.
"Phil's determination to make something good out of his bad luck inspires all of us at Surgicorps. For 20 years, our volunteers have been making a positive impact on a global scale through life-changing operations," stated Surgicorps founder Jack Demos, "We applaud Phil's inspiration for LemonAID: "When life gives you a lemon…do something with it!" We're honored to be the beneficiary organization of this event."
The event, which will be held on August 31, hopes to raise at least $50,000 – the average cost of a Surgicorps medical mission. Surgicorps International was founded in Pittsburgh, Pennsylvania by Dr. Jack Demos. Since becoming a 501I (3) organization in 1994, Surgicorps has conducted 65 missions, visited 18 countries and 4 continents and completed more than 4,000 surgeries.
Surgicorps draws from volunteers all around the world, although the majority are from the Pittsburgh region. Volunteers evaluate every patient that shows up for Screening Day and treat as many as possible. Surgeons repair cleft lip/palate deformities, burn scar contractures and do their best to respond to the individual medical needs of each country. In recent years, they have added dental services to their repertoire in Bhutan and Vietnam expanding the number served by more than 1,000. Since 2008, Surgicorps has completed a minimum of 4 medical missions per year and makes multi-year commitments to individual countries where ongoing care is combined with service to new patients.
When asked about his inspiration for the event, Laboon humbly replied "nothing I experience will ever be equal to the obstacles these kids face each day of their lives, I'm just glad to be in a situation where I can lend a helping hand." To Laboon, reaching out to Demos and his organization was a no brainer, "it's not every day that you get to give back to a Pittsburgh based charity. Bad things happen, but no matter the obstacles you face you have to keep working hard to turn the lemons in your life into lemonade."
LemonAID will be held in the Grand Hall of the Priory Hotel on Pittsburgh's north side from 6 – 11 p.m. and feature gourmet food, an open bar – including some specialty drinks compliments of Clique Vodka (
www.CliqueVodka.com
) — and entertainment. DJ Eric Schiemer (
http://schiemerentertainment.com
) will be contributing a portion of his services. Tickets are $75; sponsorship options begin at $150 and include tickets and added recognition benefits as the donation amount increases. During the event, both a silent and chance auction will take place, raffling off items including a V.I.P. Steelers Experience, two hand-selected pieces of jewelry from Henne Jewelers, Custom Web Development services, a paddle boat package for four along Pittsburgh's rivers, a V.I.P. party package for up to 75 guests and more. To buy tickets, donate or to learn more information on sponsorship opportunities, please visit
https://www.eventbrite.com/e/lemonaid-a-fundraiser-for-surgicorps-international-tickets-6873688387.
Donations for the silent and chance auctions are also welcome. 100% of proceeds from ticket sales, donations and auctions will be donated to Surgicorps International. For those interested in donating to the event, please contact Anna Doering at
adconsults@gmail.com
or calling 412.352.0365.
Eyeflow Internet Marketing is an internet marketing consulting firm located in Pittsburgh. Eyeflow is a long-time proponent of organic search engine optimization techniques and educates clients about the latest in SEO and inbound marketing as it progresses through SEO marketing campaigns. For more information about how search engine optimization can help boost your brand's visibility and access a greater audience, contact Eyeflow for a free proposal:
www.eyeflow.com
.
Email Eyeflow Internet Marketing