"Joomla! 3 Explained" by Steve Burge Has Been Delivered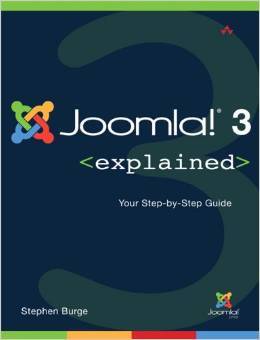 August 14, 2014 - Writing a book is a pain, fraught with frustration, time consuming, tedious, expensive, worrisome and under appreciated. Steve Burge of OSTraining.com is a sucker for punishment.
Joomla! 3 Explained is the latest book delivered from the prolific Mr. Burge. This volume will grow on those who need to have … well, Joomla! 3 explained.
In what appears to be a coincidence, Steve is releasing his vital resource in time to celebrate Joomla! 3 Day on Friday, August 15th. Well played, Steve. Well played.
Joomla! 3 Day will be like an online Joomla Day. Join Steve for a series of presentations, and a time for people to hang out, learn and ask questions of the expert presenters that all focus on Joomla! 3.
OSTraining.com Celebrates Joomla Day for Two Days!
Dates: Thursday, August 14th and Friday, August 15th
Cost: Nothing. All webinars are 100% free to attend.
Topics: We have expert speakers from around the world, covering Joomla! 3 from all angles.
Format: Just like any normal Joomla! event, we'll have presentations of 30 to 40 minutes, followed by questions.
These presentations are already lined up:
Fotis Evangelou: The new version of K2
Tessa Mero: Joomla in Education
Victor Drover: Joomla 3 SEO and marketing and services
Bill Tomzack: Comparing the code needed for Joomla 2 and 3 extensions
Nick Savov: The Install from web feature in Joomla 3
Max Lynam and Philip Locke: Joostrap and Bootstrap 3 for Joomla 3 templates
Parth Lawate: Joomla 3 for Site Builders
The organizers of Joomla! 3 Day are OSTraining, Steve Burge (author of Joomla 3 Explained), and CloudAccess.net.
Click Here for the Complete Schedule for Joomla! 3 Day
Click Here for home delivery of Joomla! 3 Explained by Steve Burge
Join OSTraining for Joomla! 3 Day
You have nothing to lose but your questions about Joomla! 3.
OSTraining.com transforms average people into website design ninjas. Joomla, WordPress & Drupal software become as familiar as your keyboard, mouse and touch-screen. Upgrade your skills, anywhere/anytime, with easy-to-follow online tutorial videos.
If you have questions, OSTraining's "fanatical support" will come to your rescue.
More than 20,000 students have wisely invested in their futures by learning from OSTraining. Someday, you will compete with them for job openings.
Get your career in gear! Sign up for the practical, career-changing lessons available right now from OSTraining.
Click Here for OSTraining Online Instructional Videos