Walker Lambe's Jack Walker Named to 2014 "Leaders in the Law" By North Carolina Lawyers Weekly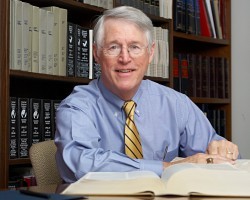 August 14, 2014
- Walker Lambe Rhudy Costley & Gill, PLLC is pleased to announce that Jack Walker, one of the founding partners of Walker Lambe, has been selected as an honoree for 2014 Leaders in the Law.
In partnership with Elon University School of Law, North Carolina Lawyers Weekly will host its fourth annual "Leaders in the Law" awards event this year, honoring legal professionals who go above and beyond in their profession and their community. The honorees represent the most influential individuals within our state's legal community. "Leaders" are recognized for changing the law, serving the community, changing practices or improving North Carolina's Justice System, among other accomplishments.
Jack Walker has been practicing law for close to 45 years, serving clients and their families in estate planning, trust and estate administration, tax planning, business succession planning, insurance planning, and representation of nonprofit organizations. He has practiced in Durham his entire career and was the first attorney in Durham to be designated a Board Certified Specialist in Estate Planning and Probate Law. Jack has served as a member of the American Bar Association, as a member of the Section on Taxation, North Carolina Bar Association, Durham-Orange Estate Planning Council, and Duke University Estate Planning Council. Jack frequently conducts educational seminars on estate planning and related topics, both for lawyers and financial professionals and for community organizations.
In addition to his law practice and his work with local, regional and national Bar Associations, Jack has also served the United Way, was a member of the Board of Trustees of the Durham County Hospital Corporation, and served the Foundation for Better Health of Durham, the Duke Heart Center, Durham Academy, and the Triangle Community Foundation where he also serves as gift counsel. Jack is a director of the UNC Law Foundation and serves on the boards of two private foundations. An accomplished musician, Jack has performed with the Chapel Hill Philharmonic, the Durham Symphony, the Triangle Brass Band, and the Durham Community Concert Band. Jack is a member of the Triangle Community Foundation Leadership council and is also a board member for the Emily Krzyzewski Famiy Life Center. Jack has been listed as a Super Lawyer in the 2007-2014 Editions of Super Lawyer Magazine.
The 2014 class of Leaders in the Law will be recognized September 19, 2014, with an awards ceremony and presentation at the Science Museum of North Carolina.
Email Walker Lambe Rhudy Costley & Gill, PLLC