Survey by DoubleTree Downtown Pittsburgh Discovers ¼ of Americans Feel Pittsburgh is a Tourist Destination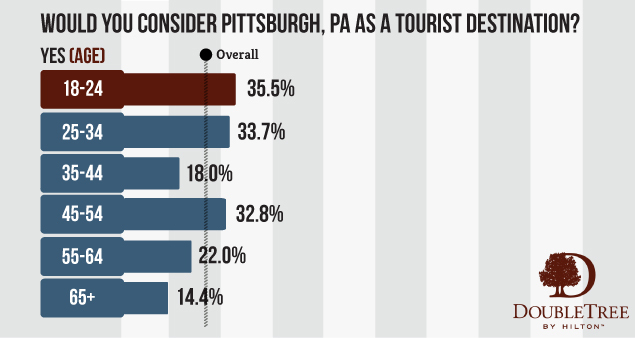 August 15, 2014 - With its recent success on numerous publisher sites, it comes as no surprise that over a quarter of Americans agree that Pittsburgh has asserted itself as a top tourist destination. With its urban resurgence and rise from its industrial past, Pittsburgh's exuberant arts and entertainment scenes, vibrant skyline and must see attractions have tourists flocking to the city like never before.
The survey, conducted by the DoubleTree by Hilton Hotel & Suites Pittsburgh Downtown, questioned people from across the country on their opinion of Pittsburgh being heralded as a top tourist destination. With over 1,000 responses, a total sum of 26.6 percent of those questioned felt that Pittsburgh was a prime location for tourism.
Over the past decade, the former "Steel City" has seen a transformation from its manufacturing-based past into what National Geographic heralded as one of the World's must see destinations. Thanks in part to its metropolitan makeover, Pittsburgh has continually ranked as one of the nation's top destinations to visit, work and live.
Upon further analysis of the results, the DoubleTree Pittsburgh downtown was able to discover that the city is attracting young people ages 18 - 34 in higher numbers than any of the other age groups. With the city's new emphasis on nightlife, arts and entertainment centers throughout the city it comes as no surprise that over a third of those surveyed between the ages of 18 – 34 were attracted to the Pittsburgh area.
While Pittsburgh may not seem like one of the nation's top tourist destinations to most, the city's reinvention must be seen to be believed. Whether its the arts, culinary hotspots, top sports competition, nightlife or the great outdoors that drives your vacation decision, look no further than Pittsburgh to cater all these interests and more.
For a more in-depth look into the results of the survey or to see what a trip to Pittsburgh can offer you, visit
http://www.doubletreepittdowntown.com/pittsburgh-top-tourist-destination-14-americans-believe/
.
Downtown Pittsburgh accommodations at the DoubleTree Downtown Pittsburgh can help make the most of your Pittsburgh vacation. Placing you in the center of Pittsburgh's cultural district, the DoubleTree Downtown Pittsburgh is just a short walk from some of Pittsburgh's top attractions and sites. Whether you are traveling for business or leisure, a stay in one of the luxury hotel rooms at the DoubleTree Downtown Pittsburgh ensures you the opportunity to discover just what Pittsburgh has to offer. Book your stay today by visiting
www.doubletreepittdowntown.com
.
Email DoubleTree by Hilton Pittsburgh Downtown