The Blooming Bath is Now Available in Target Retail Stores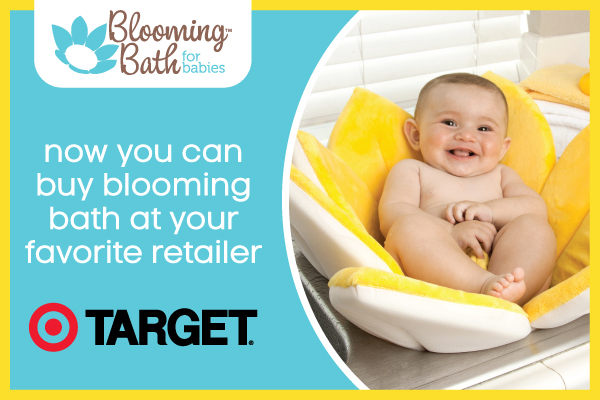 VISTA, CALIFORNIA – August 20, 2014 - Blooming Bath (
www.BloomingBath.com
) is excited to announce its popular Blooming Bath for babies bathtub can now be found in Target stores across the country.
The Blooming Bath for babies was hand-selected by the nation's second-largest retailer to be included among its vast lineup of high-quality baby products. Customers began to see the plush Blooming Bath for babies flowers "bloom" on Target store shelves in early August.
"Blooming Bath is ecstatic to be handpicked by Target to be included in its retail stores," said Blooming Bath President, Brian Pond. "Many of our customers have already discovered the comfort and ease of using the Blooming Bath for babies by ordering our products through Target's online storefront. Now we are excited to introduce our adorable and unique baby bath insert to an even broader segment of parents, grandparents, aunts and uncles."
Recently featured on the Ellen DeGeneres show as a must-have for new moms, the Blooming Bath for babies is a soft, plush flower that conforms to any sink or tub, providing babies 0-6 months a comfy, convenient and adorable bathing experience.
Target customers can purchase the canary yellow Blooming Bath for babies bathtub for $39.99 at 1,500 different Target locations across the nation. The Blooming Bath for babies will also be available through Target's Baby Registry.
Blooming Bath is based in Southern California, the brainchild of four dads who were tired (and a little scared) of handling their slippery babies in the sink. The Blooming Bath's quick-drying, foam-filled petals create a safe, soft and supportive pouch that your precious little one will enjoy – guaranteed.
Blooming Bath's recent accolades include:
2014 What to Expect Editor's Pick Gold Seal Award
Sheknows.com 2013 Parenting Award for "Newborn Essential" (voted on by parents)
PTPA Award Winner (Parent Tested Parent Approved)
CoolMomPicks "The coolest new baby gear: Editors Best of 2012"
Learn more about Blooming Bath at:
www.bloomingbath.com
or on our Facebook page:
www.facebook.com/bloomingbath