LASIK Surgeon Dr. Sandra Belmont Launches New Website for New York Patients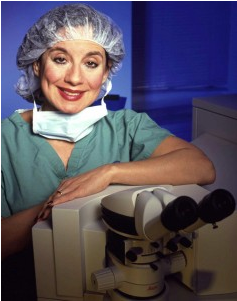 August 21, 2014 - Belmont Eye Center, an eye clinic for LASIK and cataract surgery in Manhattan, New York, has just released their new website. The site is part of a comprehensive online marketing campaign that is geared to make local patients more aware of the practice and the variety of services it offers. Belmont Eye Center offers a number of vision correction procedures, including several laser eye surgery options. The practice is run by Dr. Sandra Belmont, a highly sought after ophthalmologist who has served patients such as Jimmy Fallon, David Letterman and Regis Philbin, just to name a few.
Dr. Belmont's site now offers a variety of useful resources for current and potential patients seeking laser eye surgery in New York City. Dr. Belmont's main goal is to make information more easily available to patients in New York, and to better educate individuals on advancements in laser eye surgery. Visitors can find information on pre- and post-op care for LASIK surgery, the different types of LASIK surgery available,
LASIK cost
, financing and more.
In addition to LASIK surgery, Dr. Belmont also provides eye care to treat a variety of eye disorders. Belmont Eye Center's new website therefore offers information on astigmatism, presbyopia, cataracts, glaucoma, corneal disease, Keratoconus and several other disorders.
To make your visit easier, Dr. Belmont has included information on her site to make your decision less stressful. Visit her site to read patient testimonials, view guided videos on the procedures she offers, review information on her experience and even obtain parking information for her Manhattan location.
If you would like to learn more about Belmont Eye Center and the procedures offered at their clinic, simply call (212) 486-2020 to
schedule an appointment
with Dr. Belmont today.
About Dr. Belmont
Sandra Belmont, M.D., F.A.C.S., is a top specialist in the field of refractive and corneal surgery who has performed tens of thousands of procedures on patients from all walks of life, including celebrities, newscasters, military personnel and others. Dr. Belmont is a founding director of the Cornell Laser Vision Center and is a spokesperson for the American Academy of Ophthalmology. She is a highly respected LASIK Surgeon in New York and has been featured on ABC News, FOX, CNN, CBS, the New York Times and several other prominent news mediums. Dr. Belmont is always eager to meet new patients, so visit
www.belmonteyecenter.com
today to schedule an appointment.
Belmont Eye Center
121 E 61st St
New York, NY 10065
(212) 486-2020