Temporary Staffing Agency Promotes Senior Branch Managers in Dallas and Houston Locations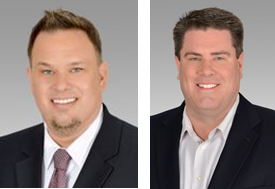 August 26, 2014 - Frontline Source Group, temporary staffing and direct hire firm, announces the promotion of two Branch Managers to Senior Branch Managers. Chance Dower and Michael Jones have made large impacts on the firm's two largest locations in Houston and Dallas, Texas and will continue to grow client base in those regions in their new roles.
"In their time with Frontline, Chance and Michael have continued to impress us with their leadership and dedication to the company's success," said Bill Kasko, President and CEO. "Both Chance and Michael's teams are in great hands as they continue to build their branches and provide great relationships with their clients in those markets."
Since joining the Frontline team in 2010 as a Recruiter and Account Manager, Chance has quickly grown his office and become the top producer in the company. "When Chance started, Frontline-Houston was our smallest office in the company and has since managed to be the top producing branch for the past 2 years," said Kasko.
In the Dallas office, Michael Jones was brought to the team three years ago to take over and continue to grow the firm's original location as well as identify future leaders for the organization. "I am extremely proud of both the Dallas and Ft. Worth teams and it has been great to watch everyone develop and grow professionally," said Jones. "I could not work with a better group of people."
Frontline Source Group- Houston TX
Senior Branch Manager- Chance Dower
713-690-4500
Frontline Source Group- Dallas TX
Senior Branch Manager- Michael Jones
214-744-5627
About Frontline Source Group
Frontline Source Group specializes in matching top talented professional candidates with companies for temporary, temp to hire and direct hire placement positions primarily in the Accounting, Finance, Information Technology, Administrative, Customer Service, Human Resources, Engineering, and Oil & Gas industries.
Frontline was recently named Best of Staffing 2014 in Client Satisfaction for the third year. Frontline Source Group was also named to the Inc. 500/5000 List in 2013 and 2014 and named by Southern Methodist University (SMU) #76 as part of the Dallas 100.
Current Office Locations include, Texas: Dallas, Fort Worth, Arlington, Lewisville, Austin, Plano, Houston, West Houston, San Antonio, Sugar Land, The Woodlands; Tennessee: Nashville, Brentwood; Arizona: Phoenix, Scottsdale. Upcoming Locations: Oklahoma City, Oklahoma; Denver, Colorado
Email Frontline Source Group, Inc.