INNOVATRICS upholds its TOP position in leading biometric evaluations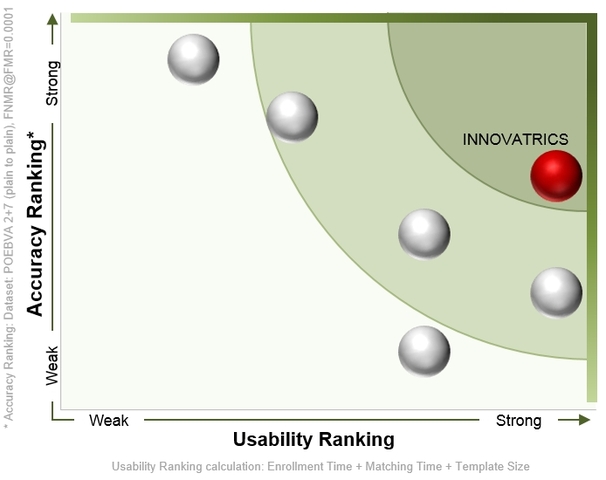 August 28, 2014 - INNOVATRICS, a biometric software development company, is pleased to announce that its biometric fingerprint algorithms excelled in the world's only available independent, public, large scale testing of fingerprint technology.
The National Institute of Standards and Technology (NIST) Proprietary Fingerprint Template Evaluation II (PFT II) measures the performance of fingerprint matching software utilizing vendor proprietary fingerprint templates. The results have validated
INNOVATRICS as the only company ranked among the TOP 3 in each reported category.
As shown in attached "Figure 1 - Performance of six companies with the best results in the NIST PFT II", the relation between Accuracy and Usability shows how well balanced the submitted software is. Accordingly,
INNOVATRICS' fingerprint matching software
ranks as the most suitable for real life deployment.
Results of NIST PFT II evaluation are available on
www.nist.gov
.
INNOVATRICS leadership
is also supported by results of another NIST evaluation – The Ongoing Minutiae Interoperability Exchange Test (MINEX). The MINEX test provides measurements of biometric performance and interoperability of template encoding and matching capabilities to users, vendors and interested parties.
Evaluation of biometric performance proves
excellent interoperability of INNOVATRICS' fingerprint technology
.
Results of Ongoing MINEX evaluation are available on
www.nist.gov
:
Inquiries about licensing INNOVATRICS algorithms are welcome, please contact us at
sales@innovatrics.com
.
About INNOVATRICS
INNOVATRICS is a world leader in fingerprint recognition software with a functional presence around the globe and vast experience in a large scale identification projects.
INNOVATRICS' fingerprint matching algorithm
is rated as one of the top most accurate in the world.
INNOVATRICS provides accurate, fast, interoperable and sensor independent fingerprint recognition software for incorporation into public and private biometric applications.