Change to Credit Score Calculation is a Big Help to Consumers, Says Pioneer Law Firm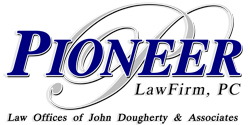 Westminster, CO – Sept. 3, 2014
– Pioneer Law (
PioneerLawFirm.com
) a Colorado firm providing bankruptcy, FDCPA, real estate, and business law services announces that a change to U.S. credit score calculations will soon have a major and beneficial impact for consumers. For individuals with past trouble paying bills, the change gives hope and an incentive to settle their debt. For the industry, the change is also helpful in that it will lead to more precise lending decisions and greater credit availability to more borrowers.
Fair Isaac Corporation has announced it will change how its FICO credit-score calculates the impact of a consumer failing to pay a bill in full, if the bill is paid or settled through a collection agency or debt settlement. With the FICO score being used by lenders in 90% of loan decisions for consumer mortgages in the U.S., the change could make it easier for millions of individuals to borrow money. The change represents a benefit for those customers who have settled their debt with their creditors for an amount less than the full value of the debt. Previously if a borrower didn't pay a bill, their credit score would be negatively impacted regardless of how they handled the debt. Now if borrowers are more responsible and make an effort to repay the amount, their credit score will not be as negatively impacted.
Besides helping individual consumers, the change is beneficial to the financial industry as it gives a better reflection of a borrower's actual payment behavior. By adjusting credit scores for unpaid bills that are resolved, the
credit score is more accurate
, allowing lenders to target lending decisions more accurately. While lenders will be able to make better informed loans, it is uncertain how quickly the industry will adapt to the new rules. Credit card and automotive lenders are typically the first adopters, with mortgage lenders changing last. To cushion their lending processes, mortgage lenders are often two versions behind when FICO makes its changes.
Problems repaying medical debt have also become a growing concern, as health care has become the
number one reason for bankruptcy
in the United States. As of July, 64.3 million U.S. consumers had a medical collection on their credit report.
More than 20% of the population
between ages 19 and 64 will struggle with health care bills this year. The new FICO change also helps address this problem and its repercussions in the financial industry. Medical debt usually happens outside of one's control, with large bills that are not expected. Many individuals with medical debt often are not aware their medical insurance has not covered a bill until they are contacted by a collections agency. The scoring change acknowledges medical bills are different from other large ticket items, and does not reflect normal purchase and repayment behavior.
"Becoming sick or injured has become expensive and a larger financial burden, even for those with insurance in America. Especially for large and unexpected medical costs, the situation is made worse by the added stress of collections and then having one's credit score crippled. The change by Fair Isaac is one that helps consumers," says John Dougherty, Founding Attorney at Pioneer. "We view it as a big deal and one of the best changes to personal finance in years."
About Pioneer Law
Pioneer Law is a legal firm specializing in Bankruptcy, Business Litigation, FDCPA, and Real Estate law. For those paralyzed by debt, disputing with a business, troubled by a collector, or involved in the sale of real estate, the specialists at Pioneer Law are prepared to advise, represent, and give peace of mind. For more information visit
PioneerLawFirm.com
.