Micro Marking Experts at Potomac Work with NASA on Solar Probe Plus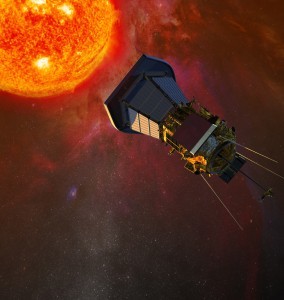 September 5, 2014 - Solar Probe Plus
, is an historic space mission from NASA and the Johns Hopkins University Applied Physics Lab (APL), to explore what is arguably the last region of the solar system to be visited by a spacecraft, the Sun's outer atmosphere, or corona, as it extends out into space. NASA says "Solar Probe Plus will repeatedly sample the near-Sun environment, revolutionizing our knowledge and understanding of coronal heating and of the origin and evolution of the solar wind and answering critical questions in heliophysics that have been ranked as top priorities for decades. Moreover, by making direct, in-situ measurements of the region where some of the most hazardous solar energetic particles are energized, Solar Probe Plus will make a fundamental contribution to our ability to characterize and forecast the radiation environment in which future space explorers will work and live."
Working so close to the dangerous surface of our closest star put extreme demands on the already tight specifications in space exploration. NASA needed to micro mark miniature custom connectors that are then attached to silicon detectors for the probe in an extremely small area. Characters could not be larger than 2mm. NASA engineers found that stenciling methods and silk screening procedures could not meet their stringent marking requirements.
Laser micro marking
appeared to be the solution and NASA found Potomac.
With the Potomac facility located only 20 minutes from the NASA Goddard Space Flight Center in Greenbelt, Maryland, we were able to work especially closely with the NASA team. After reviewing the project's requirements, we agreed on a solution that would utilize a solid-state laser system that we built in-house, equipped with extremely precise motion control equipment.
NASA needed quick turn around, and Potomac was able to develop a process to mark the connectors less than a week after receiving the parts. With solid-state laser technology and state of the art precision motion control we were able to exceed requirements. The contrast was excellent and placement accuracy was verified using a NIST traceable vision system. After NASA qualified the parts and gave the approval to move forward, we ran the first two production batches to glowing reviews.
About Potomac Photonics
Potomac Photonics, Inc
. provides micro digital fabrication contract services including 3D printing, laser micromachining, laser marking, and hot embossing for prototypes to production. Using cutting-edge manufacturing technology, Potomac has been recognized by both commercial and government agencies for innovation in areas such as medical device, electronics, aerospace, and automotive manufacturing. Potomac's high-tech facility, located at BWTech@UMBC Research and Technology Park , is ISO 9001 and ISO 13485 certified. Visit the website at
www.potomac-laser.com