The Ellis Hotel Illustrates the Top Trends of Boutique Hotels with Latest Infographic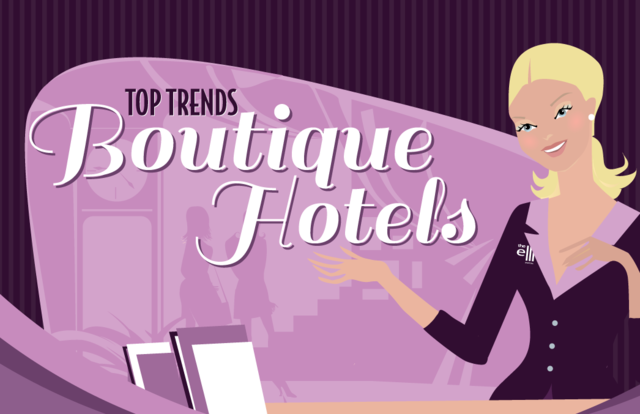 September 10, 2014 - With the recent rise in both the popularity and demand for boutique hotels, the industry has seen a wealth of trends emerge as to what their guests are looking for. The Ellis Hotel, a boutique hotel in downtown Atlanta, Ga, leads the way in these trends and has defined the latest industry news with their new infographic published to their blog. Within the industry, only those boutique hotels with the top technologies, environmental footprints and relevant restaurant offerings succeed.
Many of the more successful boutique hotels not only offer free Wi-Fi, but also include other in-room technology features for their guests including ProCentric High Definition Smart LED TVs that support mobile phone integration and radios with a white noise station among other amenities. To assert themselves as a leader in the industry, boutiques must be sure to offer user-friendly and practical technology solutions that guests would come to expect within their own home.
With the shift in the nation's focus to the "green" movement, many boutiques are going green in their hotels. Helping their guests to reduce their carbon footprint, many boutiques let their guests control their energy usages within their room and feature locally sourced food. The Ellis Hotel goes one step further, only working with suppliers that have their own green initiatives in place.
In addition to featuring locally sourced, seasonal foods in their restaurants, many of the leading boutique hotels bring in some of the top chefs and bartenders within their respective cities to provide their guests with some of the best local flavors and menus in the city. These chefs bring connections with the local agriculture scene to provide some of the finest local ingredients available to their guests.
As the demand for boutique hotels increases, many of the leading boutiques are already working towards improving themselves even further, with emphasis on the guest being at the forefront of these future key trends. Many boutiques are directly responding to the feedback of their guests to improve the experience for their guests. Whether through social media or online review sites, boutique hotels are listening to their guests demands and building relationships and exploring new ideas with them. Along with using their creative marketing efforts to build a unique identity, boutiques hope to continue to grow in popularity.
For a more in-depth look into the Ellis Hotel's infographic, visit
http://blog.ellishotel.com/top-trends-boutique-hotels/
and learn more about some of the newest trends in the boutique hotel industry.
For downtown Atlanta accommodations that you are certain to remember, book your stay with the Ellis Hotel. The Ellis Hotel works to bridge the city's past and present like no other hotel in Atlanta, providing an intimate boutique atmosphere infused with modern amenities and comforts for each of their guests. Explore what the Ellis Hotel has to offer by visiting
www.ellishotel.com
.