DoubleTree Ocean Point Resort & Spa Publishes White Paper to Help You Plan Your Miami Vacation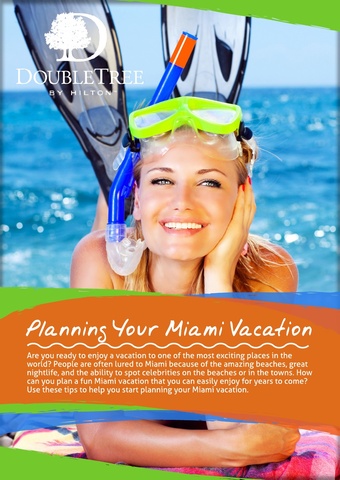 September 11, 2014 - The DoubleTree Ocean Point Resort & Spa hopes to make planning your Miami vacation easier than ever with the release of their informative white paper, "Embark on a Miami Vacation to Remember." Sunny Miami, Fl offers tourists the opportunity to embark on the vacation of a lifetime. From their miles of oceanfront beaches to their unique shopping and entertainment attractions, a vacation in Miami can be the perfect getaway for anyone.
Whether you are flying or driving down to Miami for your beach vacation, you can make the most out of every vacation dollar saved by making sure you book your trip early. From intimate boutique hotels to luxury resorts and spas, options for where you stay on during your Miami vacation are plentiful. Be certain to choose the right hotel that fits your specific needs and offers a variety of amenities that can to bring out the best in your home away from home.
After your flight and Miami hotel rooms are booked, map out what you would like to do and see and do in the area. Familiarize yourself with the attractions, beaches and must-see destinations in Miami to better plan your trip. Miami offers several unconventional ways to see what they have to offer. With everything from bike to moped rentals, simply getting around Miami Beach can be a memorable part of any trip.
Miami offers a variety of attractions that can fit anyone's interests. Whether it be catching some sun at one of Miami Beach oceanfront hotels, shopping at one of the many boutiques found in the Art Deco National Historic District, or experiencing some of the world's best nightlife and culinary locations a Miami vacation has something to entertain almost everyone.
Discover more about the fun things Miami has to offer by checking out the DoubleTree Ocean Point Resort & Spa's white paper, available for download by visiting
www.oceanpointresort.com/embark-miami-vacation-remember/
.
Make even more of your stay by booking your Miami Beach Florida oceanfront accommodations at the DoubleTree Ocean Point Resort & Spa. With their spacious rooms and luxury spa offerings, the Ocean Point Resort & Spa is perfect for any Miami vacation, whether it be with the whole family or just a romantic getaway. Discover what the Ocean Point Resort & Spa has in store for you by visiting
www.oceanpointresort.com
.
Email DoubleTree by Hilton Ocean Point Resort & Spa