Get More Client Feedback with the new Fool-Proof Mobile-Friendly Email and Survey Platform from CustomerGauge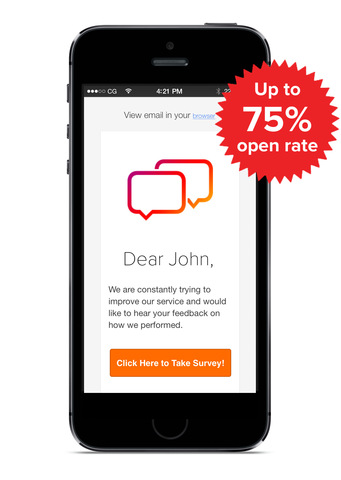 September 18, 2014 - CustomerGauge announces an updated version of its email system with new features to help customer loyalty professionals better engage with their client base. This system has proved to deliver record open rates of 75%, and return completed surveys with a rate of more that 50%. Users don't need to be an email designer or HTML wizard to create and send great looking and effective Net Promoter® invitation emails.
The simple and intuitive solution contains:
Four ready to go designer templates, mobile friendly, fully tested using Litmus® spam and email testing, and benefitting from CustomerGauge's best practice research. Basic, formal, friendly or edgy – your choice!
Comprehensive editing tool: just type over the existing templates to modify, or edit HTML and text as needed, or import your own templates - Add images or logos as needed
Create and send introductions, invitations, reminders, thank you and marketing emails all from one system
Select names to send to from your imported lists by using filters and/or choosing individuals.
CustomerGauge automatically selects the most suitable email content for the mobile or desktop device, and allows tracking of stats like "opens", "click throughs", survey complete, bounce and unsubscribe. It is simple to select all non-answers and send a reminder to boost NPS response.
The system is tuned to get maximum customer response, which means delivering emails that don't get caught in spam filters, scaling to many thousands of contacts daily. CustomerGauge clients are already using the system to engage better with clients, going beyond invitations and sending reminders, Thank-You emails and general information emails.
CustomerGauge client Mr Singbartl, IT Manager at media company Bavaria Film says "Previously, sending out a 'Thank you' email to the survey respondent meant manually going through our intranet to select the right people. Now with the new 'Email Engine' I am ready to send out the email in a few clicks."
This feature is available on all versions of CustomerGauge. A trial version of CustomerGauge allows 30 days and 1000 emails for free, with instant signup on
http://www.customergauge.com
About CustomerGauge
CustomerGauge is a software-as-a-service platform that helps clients improve customer experiences. The system automatically measures, analyses feedback and has close-loop tools to retain customers better, and reduce churn, all based on the industry standard metric Net Promoter® System. Results are published and analysed in real-time, using highly customizable and flexible reporting tool making it suitable for global enterprises.
CustomerGauge is based in Amsterdam, Netherlands and Boston, MA.
Clients include Electrolux, Philips, WoltersKluwer, AEGON, Ziggo, Tommy Hilfiger, Melitta, H&R Block and Alphabet/BMW.
*Net Promoter, NPS, and Net Promoter Score are trademarks of Satmetrix Systems, Inc., Bain & Company, and Fred Reichheld.
**Litmus is a trademark of Litmus Software.