Donald A. Gardner Architects Hopes to Help You Find the Perfect Style for Your Dream Home with their Latest White Paper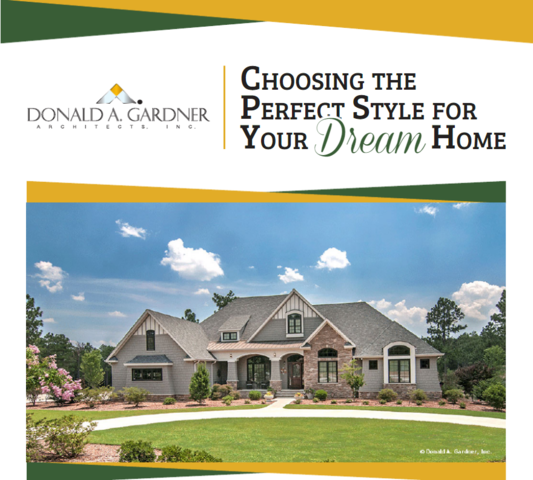 September 20, 2014 - When searching for the perfect house plan for their new dream home, many prospective homebuyers are overwhelmed by the numerous style choices in front of them. The house plan experts at Donald A. Gardner look to bring a sense of clarity to the confusion of architectural styles with their informative white paper "Choosing the Perfect Style for Your Dream Home."
There are many different types of architectural styles made available to homebuyers. From large-scale country homes to small ranch designs, each architectural style offers a unique atmosphere and set of features both in and out of the home. With so many options to choose from, homebuyers face the daunting task of choosing from hundreds of different home floor plans and designs without first having an understanding about what each style offers a homeowner.
The designers and architects at Donald A. Gardner suggest that you carefully assess your personal situation and gain a better understanding of your home needs before beginning your search. With better knowledge of your lifestyle needs and lot limitations, you can begin to focus your search for the perfect home floor plan.
When looking to narrow down your search for a style that best suits your way of living, be sure to consider the surrounding neighborhood(s) of the lot you plan to build on. It is important to make sure that your chosen floor plan will be a welcome fit to the community. Take note of what you liked and disliked about the previous homes you have lived in, as these can often help guide you towards a specific style of home plans to choose from.
Making sure that your chosen floor plan feels like "home" to you is one of the most important factors in making your decision. When searching for home floor plans online, homebuyers would be wise to consider the personalization options made available to them. Some home floor plan suppliers will work with you to help turn any one of their pre-designed home floor plans into a more suitable representation of your dream home.
Choosing a home floor plan is one of the single biggest decisions you will make. When in doubt, do not be afraid to turn to the expert consultation and professional advice of architects and designers. To learn more about what different home styles can offer you, download the white paper by visiting
http://houseplansblog.dongardner.com/choosing-perfect-style-dream-home/
.
No matter what house style you find that best suits your lifestyle needs, you are guaranteed to find the home design of your dreams at Donald A. Gardner Architects. With hundreds of designs to choose from and more conceptual drawings being regularly added , the pre-designed home floor plans by Donald A. Gardner Architects offer a timeless and functional living solution to your search for a dream home. At Donald A. Gardner, we focus on keeping our clients completely satisfied by working alongside them and modifying or customizing any of our existing plans to create a more personalized solution. Discover the difference that Donald A. Gardner Architects can offer your search for your dream home plan by visiting
www.dongardner.com
today.
Email Donald A. Gardner Architects, Inc.