Peacock Data covers the globe with new pdCountry software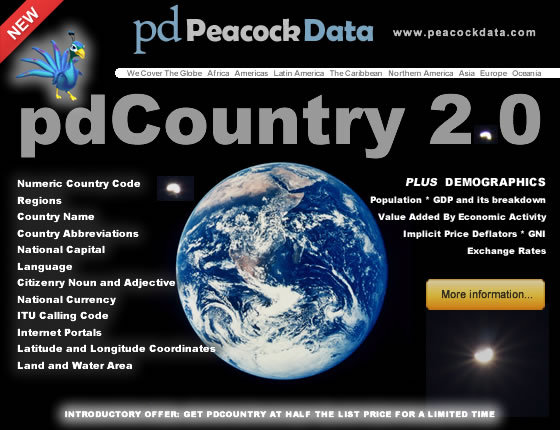 September 23, 2014 - This month west coast database makers
Peacock Data
mark the released of a new version of their international reference and demographics database software,
pdCountry
. It is available in
Pro
and
Standard
editions from their
website
.
According to a company spokesperson, "the new product was delayed about three weeks to await the results of the Scottish independence referendum. We did not want the software to become instantly out-of-date."
Special offer
For a limited time get the new software for half the list price.
pdCountry Pro
(list $95) is currently $47.50.
pdCountry Standard
(list $59) is now $29.50.
Product information
The world is becoming a smaller place and a handy collection of key country data is invaluable. The new
pdCountry version 2.0
fits the bill in good fashion representing the entire globe. This easy-to-use, comprehensive, and up-to-date reference package provides core country information, GeoCoding data, and a host of useful demographic variables.
The
Pro
version covers demographic information from 1970 through 2012 while the
Standard
edition covers 2003 through 2012. Both cover 29 United Nations-defined regions (including the World as a region itself) and 211 countries, plus some former countries.
CORE COUNTRY INFORMATION
ISO Numeric Country (or Area) Code
Regions
Country (or Area) Name
ISO, FIPS, and IOC Country Abbreviations
National Capital
Language
Citizenry (Noun and Adjective)
National Currency
ITU Country Calling Code
Internet Portals
GEOCODING DATA
Latitude and Longitude Coordinates
Land and Water Area
DEMOGRAPHIC VARIABLES
Population
GDP and its breakdown
Value Added By Economic Activity
Implicit Price Deflators
GNI
Exchange Rates
A total of 156 fields of information are available including 117 devoted to the demographic variables. Statistics are calculated in multiple ways, including in the national currency, US dollars, current prices, constant 2005 prices, rates, and/or shares. They are drawn from United Nations aggregate statistical data and are the latest information available.
Uses for this database are innumerable, and no company or organization that does international business should be without it. Financial companies, travel agents, webmasters, news agencies, research institutions, schools, students, and government will find it of particular value.
View more product informationů
Affiliates program
DO YOU WANT TO SELL PEACOCK DATA PRODUCTS?
The firm's affiliates program offers a unique way for your website or app to link to the Peacock Data product line. You will be provided with all of the tools necessary to convert your existing traffic into sales along with full support from dedicated affiliate managers.
Apply now to join the program and earn substantial rewards!
About Peacock Data
Peacock Data are the makers of database software products used by business, organizations, churches, schools, researchers, and government.
Their offerings include:
pdNickname
(Pro, $495; Standard, $299), a highly-regarded name and nickname product;
pdGender
(Pro, $395; Standard, $229), a gender coding database;
pdGeoTIGER
(Pro, $495; Standard, $299), a precision ZIP+4 and address range GeoCoding package;
pdCensus2010
(Pro, $295; Standard, $179), with demographics drawn from 2010 American census tabulations;
pdCensus2000
($195), with demographics drawn from 2000 American census tabulations and estimates;
pdACS2013
(Pro, $295; Standard, $179), with demographics drawn from American Community Survey (ACS) estimates;
pdZIP
(introductory pricing: Pro, $147.50; Standard, $49.50), an advanced 5-digit ZIP Code and ZIP+4 package; and
pdCountry
(introductory pricing: Pro, $47.50; Standard, $29.50), an international country reference and demographics database. Most products are available in Pro and Standard editions.
Peacock Data is a California-based company in business since 2003.