Fall is in the air and stadium grills are everywhere, Football and Spud Spikes makes tailgating an American past time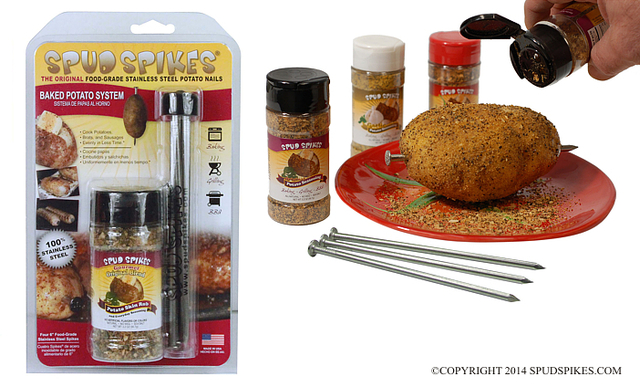 Spokane, WASHINGTON, SEP 24, 2014 – It's as American as apple pie and football. Tailgating. Over 50 million tailgaters in the United States spend $12 billion dollars on tailgating activities, which evolved from a history of churchgoers who headed to baseball games after church and wanted to eat beforehand. Every tailgate party requires a few simple things besides team pride: a tent, chairs, beer, a radio, a grill and of course, food. Although hot dogs and burgers are popular grilling items for a tailgate party, one company,
Spud Spikes®
, would like tailgaters to consider another perfect food with plenty of options for imagination, and one that is a great natural food idea – the potato.
Spud Spikes, a 2014 Martha Stewart American Made nominee, offers a Baked Potato System that is great for tailgating and tailgating parties. Spud Spikes are food-grade stainless steel nails that are inserted into potatoes before baking. The nails transfer an oven and/or barbecue's heat to the center of the potato, allowing it to cook from the inside out. This decreases the overall baking time and saves money. Potatoes cook faster and achieve crispier skins that are both flavorful and edible when using their Original Blend Potato Skin Rub and Everyday Seasoning. The nails can be used for baking, grilling and barbecuing both potatoes and brats. Brats that are grilled using the Spud Spikes will not only cook faster and taste juicier, but they will be straight and have even grill marks.
Launched in 2007, SpudSpikes.com has marketed the product trademarked in 2008 under the C.R.S. Inc. umbrella. The Tool Pro, Leon Frechette, provides all of the expertise and experience behind the selected products that are offered on the website, including their Spud Spikes Gourmet Seasonings. The company's mission is to provide the very best in products that can help customers in their daily activities and baking projects.
What finer activity can there be than grilling over an open flame before the game? Potatoes that used to take up to an hour and half to grill take only about 40 minutes using the Spud Spikes. Potatoes are no longer just a side dish to compliment the dinner – these days they are the dinner. The tailgater's cooler would do well to be stocked with butter, sour cream, chives, bacon, broccoli and cheese – which will taste great on those perfectly barbecued potatoes. Tailgaters will be able to enjoy more and grill less using their Spud Spikes.
What about the tailgaters who already own a set of Spud Spikes? Spud Spikes make great gifts for family and friends who tailgate.
For more information, visit
www.spudspikes.com
.
CONTACT INFORMATION
Media Contact:
Leon A. Frechette
C.R.S., Inc.
1011 E. 29th Ave.
Spokane, WA 99203-3221
P (509) 926-1724
F (509) 624-9701
E-mail:
crs@spudspikes.com
Website:
www.spudspikes.com
YouTube:
http://www.youtube.com/user/SpudSpikes
SOURCE C.R.S., Inc.