Frightful Family Fun in Frankenmuth's "Haunted Forest of Bavaria" - September & October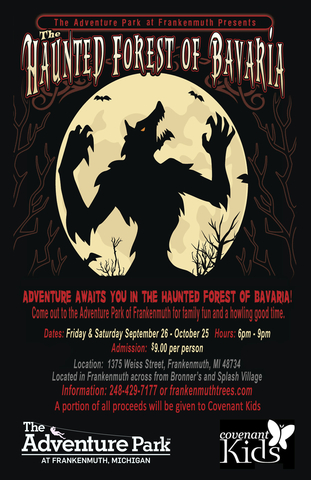 September 24, 2014 - Something wonderfully eerie is about to happen in Frankenmuth, sure to delight the kids. During the daylight hours the forest of The Adventure Park at Frankenmuth is alive with people climbing and zip lining from platform-to-platform in the treetops. But on Fridays and Saturdays from September 26 through October 25, when the sun goes down, The Park will close the trees for climbing and transform the paths below into…"The Haunted Forest of Bavaria" a frightfully fun adventure of another kind that kids and their families won't want to miss.
The sounds of the haunted forest will play in the background as visitors walk the LED–lit paths within the five-acre park site, leading from one scary station to the next. Zombies, creepy clowns, a host of monsters, a haunted cemetery and other surprises, designed for kids 12 and younger and their parents to explore together, will reveal themselves in the Frankenmuth night. Admission is $9.00 per person with a portion of the proceeds to benefit the Covenant Kids fund of the Covenant HealthCare Foundation in Saginaw.
The Haunted Forest of Bavaria will be open from 6:00 PM to 9:00 PM every Friday and Saturday through October 25, 2014. Closed on Halloween. Reservations are not required and tickets may be purchased onsite at The Adventure Park reservations office upon arrival. Visa and MasterCard are welcome. The Haunted Forest of Bavaria will be located at The Adventure Park at Frankenmuth, 1375 Weiss Street (across the street form Bronners' and Splash Village.) For more information visit
www.FrankenmuthTrees.com
, write
Info@FrankenmuthTrees.com
or phone (248) 429 – 7177.
Email The Adventure Park at Frankenmuth