Essentials By Catalina Partners With Stephenson Group, LLC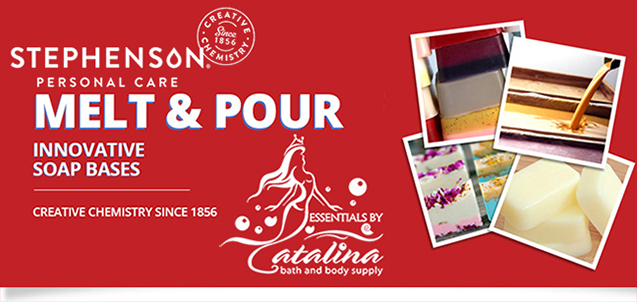 September 27, 2014 - Corona, CA – Essentials By Catalina continues its commitment to providing customers with the highest quality soap, skin care and lotion bases by partnering with Stephenson Group LLC to distribute their well-regarded line of products on the West Coast.
The new partnership between Essentials By Catalina and Stephenson Group LLC, means that clients will be able to get our products and Stephenson products from one convenient source. For fans of the popular U.K.-based maker of soap bases, getting Stephenson products will be easier, with fewer delays and convenient Essentials By Catalina pricing. Customers will even be able to will-call product orders. In the U.K., residents will be able to buy Essentials By Catalina products from Stephenson, giving our company a truly international reach.
Essentials By Catalina and Stephenson Group LLC's partnership doesn't end at sales, however. In the future we hope to further integrate our manufacturing capabilities. The ultimate goal is to continue to provide customers with a quality product, while controlling cost, raw ingredient sourcing and production.
The trust Stephenson – a company that has been around since 1856 - is placing in us to make their well-respected products is a testament to Essentials By Catalina's commitment to quality products, made responsibly in a cruelty-free environment.
To learn more about Essentials By Catalina's line of soap, skin care and lotion bases, or to find out more about our new Stephenson Group LLC products, call (951)-674-4444.
About Essentials By Catalina
Essentials By Catalina manufactures top-quality soap, skin care and lotion base. Founded in 1999 by veteran personal care chemists, Essentials By Catalina strives to provide Earth-friendly products that customers will fall in love with again and again. For more detail please visit
www.essentialsbycatalina.com
.
Email Essentials By Catalina