Frightful Family Fun at The Adventure Park at West Bloomfield's "Haunted Forest" in October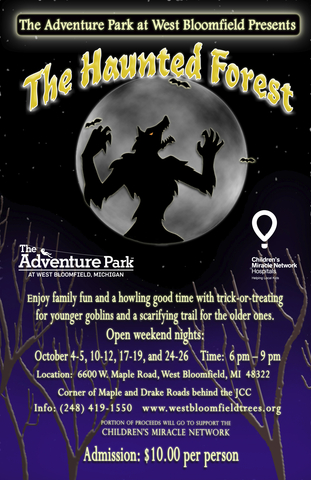 October 2, 2014 - Something wonderfully eerie is about to happen in the forest by The Adventure Park at West Bloomfield that is sure to delight the kids. During the daylight hours the forest of The Adventure Park is typically alive with people climbing and zip lining from platform-to-platform in the treetops. But on selected weekends this October, when the sun goes down, the climbing activity in the trees will be accompanied by a haunted forest on the ground-a frightfully fun adventure of another kind that kids and their families won't want to miss.
There will be trick-or-treating for the younger kids as well as the scary trail for the older ones and adults looking for haunted thrills. The sounds of an enchanted forest will play in the background as visitors walk the LED–lit paths adjacent to the five-acre Adventure Park site, proceeding from one chillingly fun station to the next as a dozen or more costumed actors portray fun and frightening creatures of the night.
Admission is $10 per person with a portion of the proceeds to benefit Children's Miracle Network Hospitals, a non-profit organization dedicated to saving and improving the lives of children by raising funds for children's hospitals across North America. Locally, these funds will support more than 100,000 kids treated at Beaumont Children's Hospital annually.
The Haunted Forest at The Adventure Park is a special event for 2014 and will be open from 6:00 PM to 9:00 PM on the nights of October: 4, 5, 10, 11, 12, 17, 18, 19, 24, 25 and 26. Closed on Halloween. Reservations are not required and tickets may be purchased onsite at The Adventure Park reservations office upon arrival. Visa and MasterCard are welcome.
The Adventure Park's regular nighttime climbing activities will also remain open during this period and available by separate admission.
The Haunted Forest and The Adventure Park at West Bloomfield are located at 6600 West Maple Road, West Bloomfield, MI 48322. -For parking, enter at the corner of Maple and Drake Roads, behind the Jewish Community Center (JCC). For more information visit
www.WestBloomfieldTrees.org
, write
Info@WestBloomfieldTrees.org
or phone (248) 419-1550.
Email The Adventure Park a West Bloomfield