G6 Sports releases "The Athlete's Guide to Workout Supplements"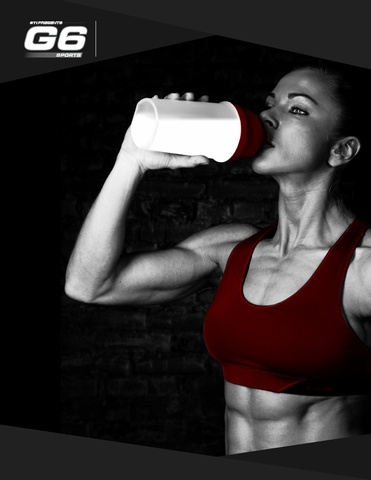 October 4, 2014 - Many athletes are on the constant lookout for ways they can improve their performance or up their level of play and endurance to get one-step ahead of the competition. Most turn to sports supplements, advertising themselves as a quick and easy way take your game to the next level. However, not all claims should be taken seriously. For assistance on choosing the best sports supplements for your needs, consult G6 Sports' latest white paper, "The Athlete's Guide to Workout Supplements."
The benefits of most workout supplements are undeniable. From long-term improvement of overall strength to quicker recovery times, when used correctly, sports supplements can indeed help athletes gain an extra edge in performance over time. It is important to note that sports supplements only work when used as directed and in combination with a healthy diet and rigorous workout routine.
Like any substance you put into your body, consult your doctor before committing to regular use of any sports supplement. Additionally, check the ingredients and do your research at home to gain a complete understanding on how the supplement will affect your body. In some cases, the positive side effects may not outweigh the negative. When choosing your supplements, keep an end goal in mind and make sure these side effects align closely with your fitness goals.
Once you have an understanding of the basic ingredients, be sure to check out the manufacturer of the product. While the ingredients you are looking for may be in the product, the quality of those ingredients should be looked at with just as much if not more consideration. A quick internet search on the manufacturer will provide you with a good foundation of reviews to base your opinion off. If you are ever unsure, a consultant at a specialty supplement store may be able to provide suggestions based on your needs.
For a complete guide to workout supplements, download G6 Sports' white paper by visiting
http://www.g6sportsnutrition.com/white-paper-athletes-guide-workout-supplements/
.
Whether you are looking for pre-workout energy or post-workout recovery, check out the line of sports supplements from G6 Sports. At G6 Sports, every supplement is carefully manufactured and tested to ensure it meets their rigorous standards of quality and performance. Try one of our projects today and discover why we are shocking the industry. For more information on what G6 Sports has to offer, visit our website at
www.g6sportsnutrition.com
.