A New Sulfate-Free Shampoo Base from Essentials by Catalina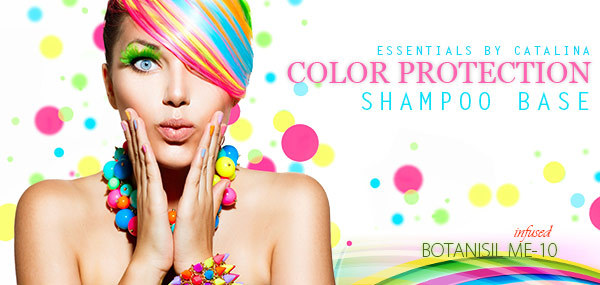 October 10, 2014 - Corona, CA – Essentials by Catalina, the Corona, California-based manufacturer of the top-rated wholesale lotion base, has announced its newest hair care formulation. A manufacturer since 1999, Essentials by Catalina supplies the nation's largest brands and chain suppliers with
wholesale lotion and hair care bases
. They are now presenting their newest haircare product, Color Protection Sulfate Free Shampoo Base.
This latest original laboratory formulation features Botanisil ME-10. Billed as a "breakthrough in microemulsion technology," this component is the secret behind important new features in the shampoo base that lead to younger, healthier hair.
According to Essentials by Catalina, the Color Protection Shampoo with Botanisil ME-10 showed perceivable color retention after 20 washes when compared to other Commercial Color Protection Shampoo. It also showed that hair fibers treated with the Color Protection Shampoo containing Botanisil ME-10 had better alignment and shine.. Thanks to significantly smaller particle size (20nm vs. 200nm for traditional ingredients), a much greater concentration of product onto hair particles is achieved. High end conditioning agents add more value to the mix, and together with Botanisil ME-10, result in reduced drying time, less blow-dry damage, and reduction of combing force. Ultimately, true hair color is retained longer, with greater shine and manageability.
The company invests in extensive research when formulating new products, manufacturing all of them on-site. This latest shampoo base is free of sulfates, DEA, and parabens, and made to be easily customized.
Essentials by Catalina manufactures all of their wholesale bulk base products in California, including lotion base, massage and shower gel base, hair care product base, and others. They source higher quality ingredients to use with their own thoroughly researched, laboratory developed and tested products. No animal testing is involved. The end result is a product that provides superior performance for the consumer, while meeting supplier needs.
For more information, or to order products from Essentials by Catalina, visit
www.essentialsbycatalina.com
, or call them at 951-674-4444.
About Essentials by Catalina
Essentials by Catalina researches, formulates, manufactures and direct delivers wholesale bulk base products directly to clients. Stressing high quality ingredients, plus originally developed breakthrough components, they provide superior base products for hair care, lotions, massage and shower gels, and much more. All products are 100% guaranteed for premium quality. All their products and sourced ingredients are earth friendly and cruelty free.
Email Essentials by Catalina