Dr. Rita Tempel Wins The Gettysburg Times "Pick of the County" Contest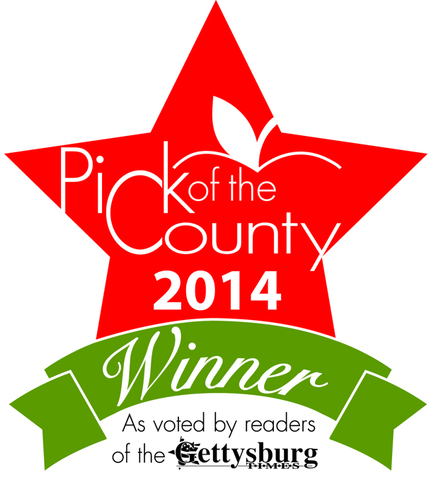 October 14, 2014 - Gettysburg, PA
– Dr. Rita Tempel, of Rita A. Tempel, DDS, LLC, is excited to share her recent accomplishment as winner of The Gettysburg Times "Pick of the County" as one of Adams County's favorite dentists.
The Gettysburg Times presents its "Pick of the County" winners every year. In 2014, over 9,000 ballots were submitted to determine the best businesses in Gettysburg, Pennsylvania –
Dr. Tempel's practice
being one of them.
"It's very exciting to be one of the three dental offices chosen for Adams County's favorite dentists, especially since I am the only dentist in my office," says
Dr. Tempel
. "I am honored."
The "Pick of the County" contest is a way to strengthen the Gettysburg community and invite its residents to support and become involved in local businesses. The list is announced and published within The Gettysburg Times, where readers can refer to its winners year-round.
Dr. Tempel has been practicing dentistry since 1993 and has been recognized numerous times for outstanding dental care. She explains, "My philosophy has always been to treat patients as if I were on the receiving end of the dentist's chair. I strive to educate my patients and provide them with the most beneficial treatment options so that they can play an active role in their dental care."
About Dr. Rita Tempel and Rita A. Tempel, DDS, LLC
Located in Gettysburg, Pennsylvania and neighboring the city of Hanover, Rita A. Tempel, DDS, LLC is a comprehensive
cosmetic
and family dental practice that has been serving the Gettysburg and Hanover communities since 2005.
Dr. Tempel received her Doctorate of Dental Surgery from the University of Maryland and has fulfilled a variety of leadership roles as a practicing dentist. She has won the American Association of Women Dentists Award for the Outstanding Woman Dentist in Leadership and Academic Excellence, as well as several Army Commendation medals and Army Achievement awards.
Since opening her practice, Dr. Tempel has been recognized as the Area's Top Dentist for Susquehanna Style Magazine and Harrisburg Magazine. She was awarded the Gettysburg Adams Chamber of Commerce Award for Exemplary Service in 2011, and has even had her dental practice featured on the TV show Dream Weddings.
Dr. Tempel and her staff are committed to performing precise aesthetic dentistry so that patients can have beautiful, healthy, and long-lasting smiles.
For more information about the dental practice of Rita A. Tempel, DDS, LLC visit
http://www.gettysburgsmiles.com/
Email Rita A. Tempel, DDS, LLC