85-Year-Old Man Oldest to Summit Mt. Kilimanjaro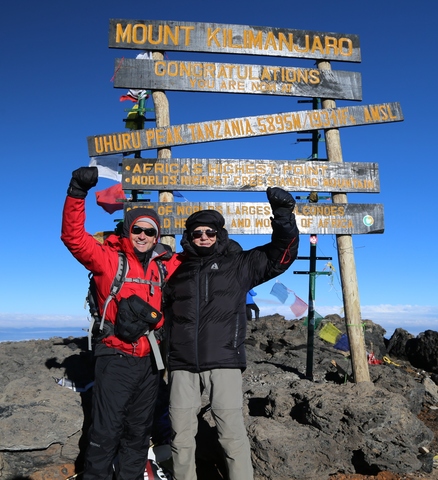 October 14, 2014 - Dr. Robert J. Wheeler is the oldest person in the world to climb to the summit of Mt. Kilimanjaro. His feat was documented fully and is expected to be entered successfully into Guinness World Records(TM). On October 2, 2014, Wheeler, who is over 85 and a half years old, summited Mt. Kilimanjaro, Africa's highest peak and the world's highest freestanding mountain (19,340 feet tall). Wheeler trekked to the top of Mt. Kilimanjaro in northeastern Tanzania, with adventure travel outfitter Adventures Within Reach.
Wheeler and his son, William "Jack" Wheeler, 46, began their seven-day trek on the Marangu Route, the most popular route to the summit of Mt. Kilimanjaro, in late September 2014, after spending two nights acclimatizing to the altitude. Robert Wheeler told his son that summiting Mt. Kilimanjaro was the hardest thing he's ever done, even harder than climbing to the top of Aconcaqua (22,841 feet high) in 1985 because of Robert's age. Wheeler published stories of his and his son's climbs in his book, Mountains and Minds, which alternates climbing stories with research results about why people pursue difficult tasks like mountain climbing. Wheeler will add a research chapter and an account of his Kilimanjaro climb to his book (second edition to be available at
www.wheelerrj.com
).
Robin Paschall, owner of Adventures Within Reach, says "Robert Wheeler is an inspiration to climbers on Mt. Kilimanjaro, and to all of us. Wheeler's amazing accomplishment of reaching the summit of Mt. Kilimanjaro shows us the power of the determination, at any age, to put one foot in front of the other. We at Adventures Within Reach are proud to have served both Wheeler and Dick Byerley, a previous Guinness World Record holder for oldest man to summit Mt. Kilimanjaro." Adventures Within Reach, based in Boulder, CO, is a travel tour operator that specializes in customized, affordable adventures. Jack Wheeler commended the Adventure Within Reach's guides by saying, "Our guides did a great job, making it possible for us to summit."
About Adventures Within Reach
Adventures Within Reach offers treks and cultural tours to Tanzania, Peru, Galapagos, and the Himalayas. AWR sends thousands of people each year on their dream adventure to Tanzania. For more information about specific packages and prices, contact Adventures Within Reach at 303-500-5047, or visit
http://www.AdventuresWithinReach.com
Note to Editors:
Wheeler's world record is pending certification from Guinness World Records. Wheeler was 85 years, 201 days old when he summited Mt. Kilimanjaro.
The current official oldest Guinness World Record(TM) holder is Martin Kafer (Switzerland, born May 10, 1927), who reached the summit of Kilimanjaro at age 85 years, 144 days, on October 1, 2012.
Dick Byerley, an Adventures Within Reach client, summited Kilimanjaro on October 6, 2011 at the age of 84 to become the Guinness World RecordTM holder prior to Kafer.
87-year-old Frenchman Valtee Daniel purportedly reached Kilimanjaro's summit, but his ascent was not documented.
Photos of Robert Wheeler and Kilimanjaro are available upon request.
Email Adventures Within Reach