HOST1PLUS Increases Affiliate Payments up to $115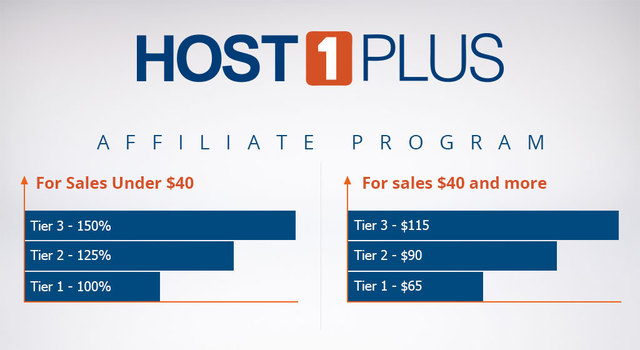 October 15, 2014 - HOST1PLUS, a UK-based hosting solutions provider,
announced
the release of a renewed affiliate program. This week the company presented an updated system which is
already available
via HOST1PLUS website.
Responsive design, easier management options and a handy user interface are listed as the main features of the newly presented system. The new system is considered highly accessible, as affiliates may connect to the system and track their progress via mobile devices.
HOST1PLUS affiliate program has an open membership. Every affiliate is granted with a set of tools – performance tracking software, visuals, banners - to ease affiliate marketing, and provided with a unique customizable link that helps track and observe the actions of the referrals.
As stated, affiliate conditions have changed as well – the company has significantly increased affiliate commissions. From now on, all affiliates will receive a fixed amount of $65 for each referral or 100% of the total amount of the referred order.
However, HOST1PLUS affiliate commissions are based on a tier system, thus the affiliate payments may reach up to $115 per each referral. The affiliates of HOST1PLUS receive commissions depending on the level of the affiliate program that they pursue. The levels, or so called tiers, are indicated by the number of referrals that an affiliate draws per month. For example, if an affiliate attracts 15 referrals or more – his commissions increase by 25% of the total amount of the referred order or $25. If the number of his referrals tops 25, he may earn additional 50% of the total amount of the referred order or $50 more.
The amount of commissions earned is not limited. However, the minimum amount of $50 must be reached for commissions to be handed out. The company explains that it is easier to overcome the threshold because of a $10 sign-up bonus, granted for every new affiliate user. The commissions are handed out regularly - affiliate payments are made once a month via PayPal or converted into credit for HOST1PLUS services.
Andrius Kazlauskas, the co-founder and CEO of HOST1PLUS states that "HOST1PLUS affiliate program was created to benefit both – the company and the people who rely on us." According to him, the company sees this program as an opportunity to create a stronger relationship with the customers, partners and supporters, based on mutual interest and trust.
The affiliate marketing trend among hosting companies persists - other hosting providers have also made significant changes in their affiliate programs. Most companies view this as an opportunity to create stronger bonds with the clients while promoting their services at the same time. Affiliate programs are not novel, however the competitiveness in the market forces companies to constantly increase affiliate commissions and thus benefit the most active affiliates.