Clear Sky SEO Releases White Paper Providing 8 Steps to the Perfect Small Business Blog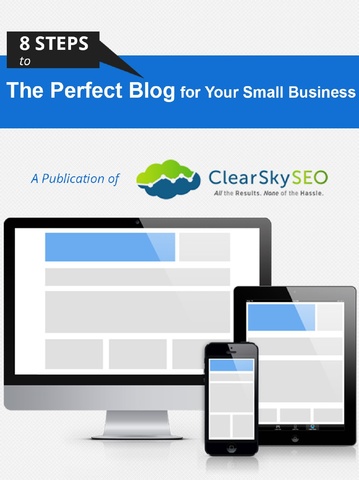 October 15, 2014 - If you already have a website for your business, you may be well on your way towards tapping into a new wealth of potential customers and clients for your business. One of the most effective ways to capture new traffic is through a blog. Get started with Clear Sky SEO's latest white paper, "8 Steps to the Perfect Blog for Your Small Business."
After you start to gain decent traffic to your website, the next step is finding a way to keep that traffic engaged and converting them into paying customers. The best way to do this is to write high-quality blogs that provide an answer to what your audience is looking for online. Through keyword research, you may be able to draw more traffic into your website.
Those who are new to the world of blogging may think that their blog is the perfect chance to promote their products or services. While this may seem like a good idea at first, it is important to keep your blogs free of any sales heavy content. Content that exclusively pitches a product or service won't help you engage new readers. Instead, try to focus on topics that your target market has an interest in, working to create a blog that users will continually check on a regular basis.
When it comes to writing your individual posts, be sure to start your post with a captivating headline. The headline should help define what your blog post is about, while working to captivating a reader to click through and read. Give your blog post an attention grabbing title that will help to direct the reader.
Throughout your writing, keep in mind your target audience. Writing in an engaging manner will help to keep your audience's attention. Depending on the nature of your business, your writing style may vary from professional to more laid back and conversational. Be consistent with your posts, making sure to keep your blog up-to-date with the latest information and industry news. Once you get your blogs posted, be sure to promote, share and reply to any comments made about the posts to further engage your target audience.
A successfully run blog can help assert your business as an industry expert, driving up search traffic rankings and helping to build better customer relationships. Get started on your blog today by viewing Clear Sky's white paper at
http://www.clearskyseo.com/white-paper-8-steps-perfect-blog-small-business/
.
Make the most of your online marketing efforts, turn to the expert team at Clear Sky SEO for help with all your internet marketing needs. With their affordable SEO services and internet marketing skills, Clear Sky SEO can help your website attract new traffic and convert visitors into paying customers. Discover the difference Clear Sky SEO can make for you by visiting
www.clearskyseo.com
.