Dr. Jennifer Parker Porter Updates Website for Washington DC Facial Surgery Patients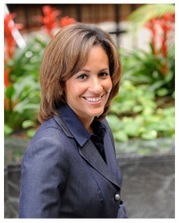 Washington, D.C. (10/18/14) - Dr. Porter and the staff at Chevy Chase Facial Plastic Surgery are pleased to announce the launch of their newly updated website. The updates are part of an online marketing campaign designed to attract the attention of local patients in the DC area while informing potential patients of the state-of-the-art procedures the practice offers. Dr. Porter has noticed the high demand for facial cosmetic surgery which is why she is looking to make her procedures more easily available to Chevy Chase and Washington D.C. patients.
Chevy Chase Facial Plastic Surgery's new website provides information on various cosmetic facial procedures as well as non-surgical procedures and skincare treatment. The practice offers many procedures to rejuvenate the face, including facelift, brow lift, eyelid surgery rhinoplasty and more. For those looking for less invasive procedures, Dr. Porter offers dermal fillers and Botox as well as laser treatments such Fraxel laser skin resurfacing. Other highly effective skin care treatments available at her practice include chemical peels, microdermabrasion and the Dermapen.
Dr. Porter's new website also features a photo gallery of before and after photos of actual patients who underwent cosmetic facial surgery with Dr. Porter. In addition, the site has a robust blog with up-to-date articles and posts on the latest in cosmetic surgery.
Chevy Chase Facial Plastic Surgery is conveniently located in Chevy Chase, Maryland, and caters to patients in the Washington D.C. and Bethesda area. For further assistance, guests can fill out the easy-to-use contact form on the site and one of their knowledgeable staff members will respond to your question as soon as possible.
About Dr. Jennifer Parker Porter
Jennifer Parker Porter, MD, is certified by the American Board of Facial Plastic and Reconstructive Surgery as well as the American Board of Otolaryngology. She completed her undergraduate degree at Brown University, received a full-tuition merit scholarship to the Duke University School of Medicine and completed her residency in otolaryngology at Baylor College. She is a Fellow of the American College of Surgeons. Dr. Porter is an expert in the field of facial cosmetic surgery and her reputation has been passed along over the years from patient to patient. If you would like to schedule a consultation with Dr. Jennifer Parker Porter visit
www.chevychaseface.com
or call (301) 652-8191 today.
Chevy Chase Facial Plastic Surgery
8401 Connecticut Ave, Suite 107
Chevy Chase, MD 29815
(301) 652-8191
Email Chevy Chase Facial Plastic Surgery