San Antonio LASIK Surgery Center Focal Point Vision Launches New Website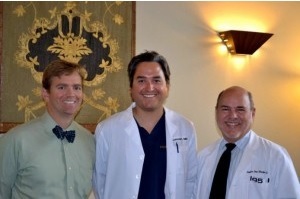 San Antonio, TX (10/18/14) - Focal Point Vision, a renowned LASIK and cataract surgery center in San Antonio, TX, is pleased to announce the launch of their new website, located at
focalpointvision.com
. The website features a new, intuitive design and informative content on many eye care topics. The surgeons at Focal Point Vision hope that this new website will help them continue to establish their reputation as leaders in ophthalmology, and attract more patients to their state-of-the-art practice.
The most noticeable change to Focal Point Vision's website is the upgrade of its design and layout. The practice worked with top-notch designers to help build a website that is intuitive to the user, easy to navigate and visually appealing. The team at Focal Point Vision feels that the new design properly reflects their modern and inviting practice.
Another positive change to the website is the addition of new content covering many vision correction topics. Drs. Maverick, Lehmann, San Martin and Burkhart worked together to provide high-quality content that answers some of their patients' most critical questions about various eye conditions and treatment options. The eye surgeons at Focal Point Vision understand that patient education is of the utmost importance and are pleased to share this information with their website visitors, so their patients are well-prepared ahead of their consultation.
Other helpful sections of the website include the testimonials section, where prospective patients can hear the real stories of individuals treated at Focal Point Vision, the technology section, which details all of the state-of-the-art equipment and techniques utilized by the practice, and the patient forms section, where new patients can easily download and print important information. The team at Focal Point Vision is confident that all of these elements help contribute to their excellent patient care, even outside of the office.
More about Focal Point Vision
Focal Point Vision is a state-of-the-art laser vision correction practice, led by Dr. Kenneth Maverick, Dr. James Lehmann, Dr. Antonio San Marin and Dr. Zachary Burkhart. They have more than 20 years of experience providing high-quality vision correction treatments, including LASIK, cataract surgery and PRK, to patients throughout San Antonio, TX. The board certified ophthalmologists at Focal Point Vision are committed to providing the very latest and safest treatments in an inviting environment. If you have been considering laser eye surgery and would like to learn more about the treatment options available to you, contact Focal Point Vision today at 210-614-3600 to schedule your consultation.
Focal Point Vision
4775 Hamilton Wolfe Rd. Bldg. 2
San Antonio, TX 78229
210-614-3600