Productiontrax.com Celebrates 10 Years of Royalty Free Music With Site Relaunch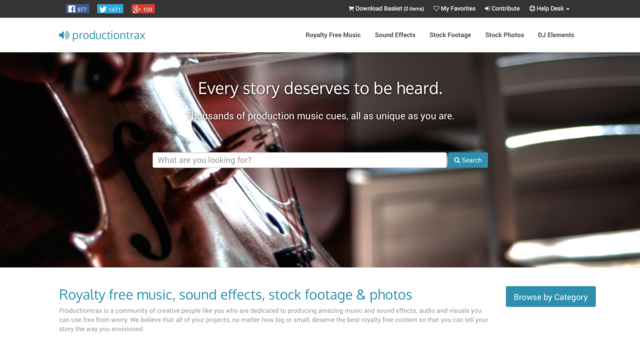 October 24, 2014 0 New York, NY — Productiontrax.com (
http://www.productiontrax.com
) today announced the formal relaunch of a new website design and user experience in honor of their tenth year in business. Productiontrax.com is a leading provider of royalty free music, sound effects, stock footage, and stock photos for use in creative projects and multimedia.
The new website features a completely overhauled and more modern graphical interface, added functionality, and a streamlined user experience. "We wanted to focus on a simpler, faster user experience," said Productiontrax founder, CEO and lead developer David Negron. "It was really important to highlight and feature the great selection of production music and stock media that our contributing artists have to offer, so we re-thought how we presented those assets to the user, and sought out ways to create a fun, modern, and fast way to audition and purchase stock media."
The new Productiontrax also features the company's new logo, which represents their first branding update since their first launch ten years ago. A subtle change in font, color and graphics signals the company's shift to a more modern and simplified feel. Reflecting that change, the new site streamlined display of pricing, and re-launched lightboxes as Favorites (or as the site says, Save Your Favs) – gone are the little lightbulbs, instead replaced with inviting and functionally clear hearts. The new site also boasts an update to the library's stock footage offerings, featuring larger thumbnails, and speedier video load times. Even the search engine got a tune up, with new sorting and filtering options, and a performance boost.
No customer experience overhaul is complete without changes to customer service integration. "We refined our live chat support tool, and brought our email support tickets into the 21st century," Negron said. Customers can chat with an agent without using AIM, and can open support tickets from a dedicated interface, or via email, making it easier than ever to get answers to their questions about licensing and downloading royalty free music. "Our customers are the main reason we've been around for a decade, and we wanted each and every one of them to have the world class Productiontrax support experience that we're known for."
Productiontrax.com (
http://www.productiontrax.com
) is owned and maintained by One Light Music Productions, Inc. and is based in New York, NY and Phoenix, AZ. The company has been providing stock music and royalty free sound effects, footage, and photos since its inception in 2004.