FoxMind Presents the Gift No One Else Can Give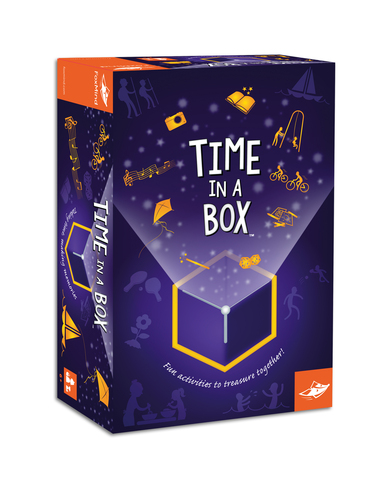 What does every child want? An I Pad? Xbox? Maybe, but what is the one thing that every child wants, needs and deserves? At FoxMind Games they believe they know the answer and today announced the international availability of its new
Time in a Box
.
The new product, the brainchild of child psychologist and writer Rute Moreira, is more than its contents. It's a gift of dedicated time; an opportunity to try new things; a way to explore art and science; a chance to plan for the future and to consider the past; and a way to tell a child in your life that they matter to you - more than anything!
David Capon, President of FoxMind, explained, "The benefits of Time in a Box extend beyond the product itself because it creates uninterrupted quality moments with the family and reinforces social-emotional connections. It also aims to reinforce the child's feeling of connection to a larger community such as the neighborhood or the town where he or she lives."
When you give Time in a Box, (MSRP $17.95 for 2 players ages 6 and up) you are offering a child you care about the gift no one else in the world can give them: your time. Inside the box you'll find 96 activity cards that allow a child to momentarily shift your priorities and focus on doing a special activity together, such as playing a board game; solving a puzzle; starting a family tree; making a blanket fort; or carrying out an act of kindness that will bring a smile to a stranger's face. Time in a Box includes a simple written agreement between you and the child that sets the ground rules by which you'll both abide. Adults should switch off their smart phones and get ready for some quality time!
"Season-by-season, Time in a Box is a gift that inspires activities that provide a wealth of ways to make memories together and the unique and beautiful box can serve as a memory chest where pictures and notes can be collected and treasured," Capon said.
About FoxMind Games:
Appropriately named, FoxMind publishes and distributes a vast array of original games that provide family oriented toys and games that entertain and educate players of all ages. Founded in 2000, FoxMind is based in the Netherlands with its North American distribution located in Montreal, Canada, the company's moto is Smarter Fun and as such offers educational games, logic puzzles, spatial reasoning games and strategy and party games for the whole family. With numerous international prizes already on its mantle, FoxMind sells its product line worldwide and is a favorite brand among parents, teachers and casual players around the world. Recently, the company ventured into the dynamic arena of electronic games, with its first offerings for the iPhone and the iPad already available. Additional information is available at
www.foxmind.com
and through its social media outlets on
Facebook
,
Twitter
and
Pinterest
.