GrantsAlert.com Partners With Fundraising.com to Better Help America's K-12 Teachers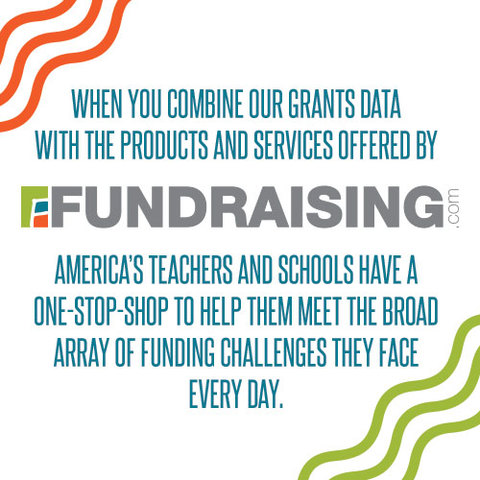 October 25, 2014 - Have you heard? GrantsAlert.com has partnered with Fundraising.com, welcoming all of GrantsAlert.com visitors to its fundraising program. Not only does this give participants access to a wide variety of traditional fundraising products such as lollipops, beef jerky and cookie dough, but a free online fundraiser as well. Visitors of GrantsAlert.com can buy products or register for their online fundraiser through GrantsAlert.com's official website,
http://www.grantsalert.com
.
Beginning immediately, participants in the fundraising program have the opportunity to offer hundreds of popular magazine subscriptions, thousands of gifts and snacks, and personalized photobooks, by registering for their very own free online fundraising store. Participants create their own fundraising page - complete it with their photos and message – to which they can then invite friends and family to shop by email or social media. Up to 40% of the sales will then go back to the participant.
If participants prefer a traditional fundraiser, Fundraising.com offers dozens of unique fundraisers such as custom tees, hoodies and sports apparel, seasonal gift catalogs, 90% profit Scratchcards, and much more. For a complete list of fundraisers, visit
www.grantsalert.com/fundraising
.
Since registering the Fundraising.com domain in 1995, Fundraising.com has helped tens of thousands of non-profit groups and individuals raise millions of dollars for their good causes. By offering proven, traditional fundraising products and their innovative online platform eFundraising.com, they've positioned themselves as proud leaders in internet fundraising, working together with schools, sports organizations and national charities like The Humane Society of the United States and MADD.
Initially marketed as "The Lollipop Company" and offering just one product - gourmet lollipops - to non-profit groups nationwide, Fundraising.com modeled their business in a way that would ensure maximum profits were returned directly to their customers.
In 2001, Fundraising.com was acquired by QSP (Quality Service Programs, Inc.), and this alliance allowed them to join one of the biggest names in fundraising, thus adding over 35 years of traditional know-how and expertise to their own innovative fundraising experience.
Thanks to their flexible approach, a love of rising to the challenge, and an integration into the Great American Opportunities family in 2012, they've ensured an ever-expanding customer base, a sales force of approximately 400 strong, and a dedicated customer service team who share a "bend-over-backwards" approach. With an undivided focus toward ongoing development via strategic partnerships, Fundraising.com looks forward to many more years of helping hard-working groups reach their fundraising goals.
Founded in 2004, GrantsAlert.com is a website offering the most up-to-date, accurate details on competitive grants and funding opportunities available to America's K-12 teachers, schools and non-profit organizations serving the K-12 education community. Joe Mizereck, Founder of GrantsAlert.Com stated, "Being successful in raising funds through grants takes time and is very competitive. Our partnership with Fundraising.com enables us to offer teachers and schools another excellent channel with powerful tools for raising funds that can be accomplished in a matter of weeks instead of months. Teachers need both channels working for them to be successful. We're pleased to provide this practical and valuable combination of services to our teachers and schools."
GrantsAlert.com visitors interested in participating in the fundraising program can call toll-free 1-866-599-0068 or log onto
www.grantsalert.com/fundraising
and click on the Free Fundraising Guide button.