Updated DO-200A Training from Afuzion - Provided in five countries already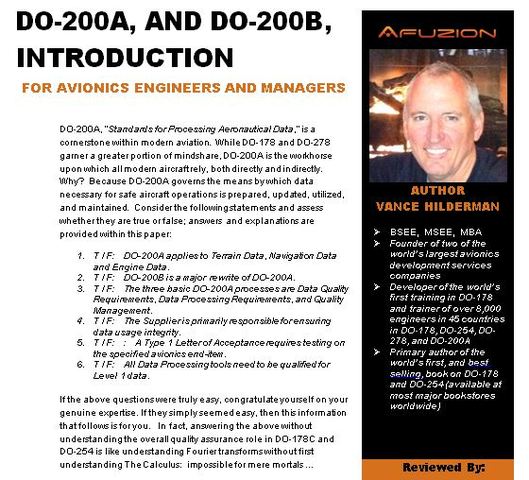 October 27, 2014 - By the principal author of the world's best-selling book on avionics software certification and DO-178, this updated DO-200A training applies techniques which over 8,000 aviation engineers have learned from Mr. Hilderman's training worldwide in 40+ countries to most major aviation companies.
Available in onsite 2-day or 3-day (with workshop) formats, this Do-200A training emphasizes DO-200A Training for Engineers & Managers by first relating DO-200A to the aviation ecosystem of ARP-4761A Safety, ARP-4754A Systems, and the DO-178C Avionics Software Certification ecosystem. Attendees learn the real meaning of complying with DO-200A and how to preserve, enforce, and report data integrity. Attendees learn Do-200A best practices, and also DO-200A common mistakes and how to avoid them. Practical DO-200A examples are provided in this D0-200A Training by Afuzion Incorporated.
Worldwide companies have already procured this very DO-200A training from Vance Hilderman including companies in Japan, China, Turkey, Brazil, Europe, and the USA. Mr. Hilderman is also the author of the most popular technical whitepaper on Do-200A, filled with DO-200A Facts & Tips. All DO-200A attendees may receive a free copy of this whitepaper plus three years of free updates and access to Afuzion's large collection of Avionics Technical Whitepapers, principally written or edited by Vance Hilderman.
Do-200A, and DO-200B, costs and cost reduction are of paramount concern, and this paper summarizes the key Do-200 activities with recommendations on reducing DO-200B costs. DO-200B training is also provided. Do-200A quality assurance is described as is DO-200A traceability. A sample Do-200B example is provided along with a description of DO-200B objectives.
As described in his forthcoming book "Avionics Development Ecosystem", author Vance Hilderman describes how changes in software technology fostered a need for changes to the very guidelines upon which avionics data development is founded, thus inspiring a need for the update of DO-200A to DO-200B. Also, with the rapid growth of avionics complexity and importance in all forms of aircraft, many avionics developers now need to understand DO-200A best practices to better implement Do-200B best practices.
Adds Chris Jackson, Afuzion co-founder, "As an attorney and business jet owner/pilot, I know all about risk, reward, and the corresponding trade-offs. While I don't understand the intricacies as well as Mr. Hilderman, I particularly like the DO-200A training content on DO-200A cost reduction, and transitioning to Do-200B." More information on DO-200A Training, DO-200B Training, and DO-200 Workshops are available on Afuzion's website at
www.afuzion.com