Grand River Academy's Newest Infographic Illustrates the Prevalence of ADHD in Boys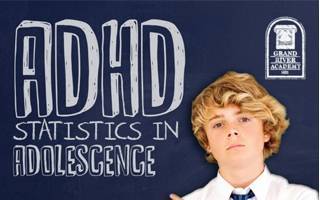 November 1, 2014 - Attention Deficit Hyperactivity Disorder (ADHD) is one of the most common mental health disorders throughout the United States, affecting approximately 11% of children ages 4-17. Grand River Academy wants to help parents understand more about ADHD with their latest infographic, "ADHD Statistics in Adolescence."
While any child can have ADHD, boys have been found three times more likely to be diagnosed with the disorder. In fact, nearly 13% of all males will be diagnosed with the disorder at some point over their lifetime, a trend that has been increasing since the late 90s. With so many children being diagnosed with ADHD, developing teaching methods to cater to these students is a top priority for many schools.
To help parents better understand ADHD, the infographic provides a list of some of its most common symptoms. Typically, these symptoms begin to appear in boys 3-6 years old, and most are diagnosed shortly thereafter at the age of 7. Hyperactive behavior, impulsive action and a tendency to lose focus and daydream are some of the more common symptoms that boys demonstrate. In most cases, ADHD has a direct impact on a boy's ability to learn and stay focused with their schoolwork.
Despite these common symptoms, it is important to recognize that ADHD does not have the same effect on, nor does it present the same in every child. Pay close attention to the way your son behaves both in and out of the classroom. If you feel your son's academic performance is suffering due to his increased hyperactivity or inattentiveness in the classroom, consider getting him evaluated for ADHD.
Early detection of ADHD can help better prepare your son for academic success. Consider enrolling him in a small, all-boys school, such as Grand River Academy. With its smaller class sizes, enhanced learning support programs and professionally trained teachers, GRA can provide your son with the individualized attention he needs to overcome the obstacles of ADHD.
The learning support programs of schools dedicated toward teaching boys will often work closely with a boy's parents to develop an individualized learning strategy catered to their son's needs. Together, the teachers and staff help keep your son motivated and focused on his academics with frequent mentoring meetings and positive encouragement.
Understanding the challenges that are in front of your son is one of the first steps in helping him overcome ADHD. Learn more about ADHD by viewing Grand River Academy's infographic at
www.grandriver.org/school-life/blog/infographic-adhd-in-adolescents
.
If your son has been diagnosed with ADHD, consider checking out the Foundations Learning Program at Grand River Academy. Focusing on educational kinesiology, individual attention and careful monitoring, the staff at Grand River Academy can help boys improve their academic performance. The program provides the boys of Grand River with the confidence and tools they need for success in the classroom and beyond. For more information on Grand River Academy's Foundations Learning Program, please visit
www.grandriver.org/academics/the-learning-center
Email Grand River Academy