Foam Factory Launches New Sponge Line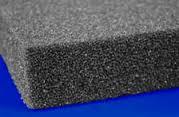 November 1, 2014 - Macomb, MI
– The sponge is often the unsung hero of cleaning and maintenance, representing an invaluable tool for absorbing liquid, sanitizing, and applying gentle pressure to surfaces. With this being the case,
Foam Factory is proud to announce the introduction of their new line of sponge products
, bringing some deserved attention to the humble sponge, thanks to their great quality and versatility.
Home and business owners alike will love Foam Factory's new sponge line, as it provides affordable, reliable tools for cleaning. The new sponges come in five styles and two foam types:
Standard Rectangular Soft Sponge
Rounded Corner Soft Sponge
XL Handle-Style Soft Sponge
Mini Scouring Sponge
XL Scouring Sponge
The new soft sponges are great for washing bathroom and kitchen counters, cars, or any other surface where a gentle touch is needed to avoid scratches or scraping. Easy to rinse and wring out, owners of Foam Factory sponges can use their sponges again and again, making them a great value.
Foam Factory's scouring sponges are well-suited for cleaning jobs requiring more strength. These highly-reticulated forms are made from a large-celled foam material that quickly and easily drains water. This means the sponges get wet enough to do their job without sloppily retaining water. The abrasive texture of the scouring sponges makes them ideal for wet drywall sanding and scrubbing tiling, floors, and grout.
Foam Factory is a leading manufacturer of foam-related products, sponges included. To learn more about Foam Factory's products, call (586) 627-3626 or visit
www.FoamByMail.com
.
About Foam Factory
Foam Factory, Inc. manufactures foam, rubber, sponge, and upholstery products. Located in Southeast Michigan, the company was founded more than 30 years ago and remains family owned and operated. Foam Factory operates out of a manufacturing facility that totals nearly 310,000 square feet, allowing the company to handle large production needs while still accommodating individual customers. This warehousing and production ability lets the company offer quick service and low prices on foam and related products.