Grand River Academy Outlines the Advantages of an All Boys Boarding School With Their New Video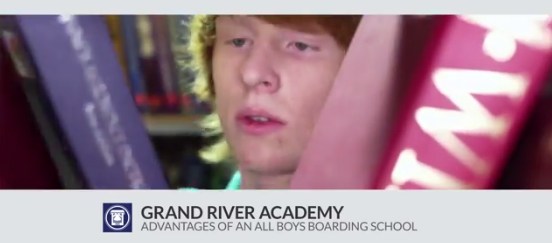 November 4, 2014 - As recent studies have shown, not all genders are created equally when it comes to their education. With males falling behind their female peers in the classroom, many parents have begun to look for alternate solutions for their son's education. To assist parents in their search, Grad River Academy has published a video defining the key advantages that are provided to boys when they attend an all-boys boarding school.
The male and female brain work in different ways to comprehend new ideas and facts. The male brain favors spatial-mechanical learning, meaning that many boys will learn and pay more attention when they can actively work with a topic or subject in a hands-on learning environment. An all-boys boarding school provides their students with a more freeform style of learning, tapping into the learning behaviors of their male students to help them succeed. These types of schools often give their students an ample amount of lab time, interactive learning opportunities and freeform discussions that help boys to stay engaged with their academic subjects.
Teachers in an all-boys boarding school allow their students the freedom to choose their topics, keeping them invested with their assignments and projects while keeping them interested with the learning process. With the freedom to explore different subjects and topics on their own, students of an all-boys boarding school have been found twice as likely to pursue new subjects, including language studies and the arts.
Another advantage for students who attend an all-boys boarding school is an opportunity to get involved beyond their studies. Many boarding schools focus on creating a 24/7 learning environment for their students. These schools offer a variety of social clubs, volunteer opportunities, sports and other extracurricular activities that promote the leadership, social and cooperation skills needed for success.
The 24/7 learning environment of an all-boys boarding schools not only helps students grow academically, but also as individuals. Alongside their peers, the boys can grow, developing the life skills and tools they need to grow into successful young men. Boys who are living away from home can learn how to be self-reliant and responsible for their individual wellbeing.
These are just some of the exciting advantages of an all-boys boarding school. To learn more about these and other advantages that are made available to the students of an all-boys boarding school, please visit
http://www.grandriver.org/school-life/blog/advantages-of-an-all-boys-boarding-school
.
Since 1831, Grand River Academy has helped thousands of boys become successful young men through quality education, activities and living. Our highly trained staff, learning-intensive curriculum and extensive extracurricular activity offerings help our students discover themselves and grow both academically and socially. Discover how Grand River Academy can help prepare your son for college and future success by visiting
www.grandriver.org
.
Email Grand River Academy