Kids Picture Book, The Thanksgiving Dinner Platter, explains when #thanksgiving became a holiday and thanks our vets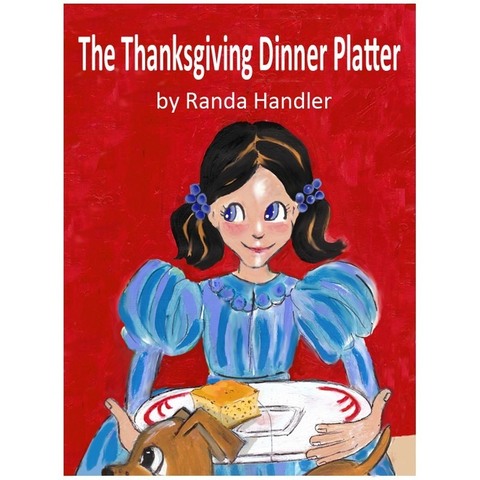 November 7, 2014 - Award winning children's author/illustrator Randa Handler explains in a fun way how, why and when, Thanksgiving became a national holiday. Uniquely, she sets her book,
The Thanksgiving Dinner Platter
, in 1941 (ebk-Open Road Media) ISBN; 978-1-932824-50-6; Pbk (Ravencrest Publishing) ISBN; 978-1-932824-52-0.
As with her other books she instills a love of diversity here too and adds an international twist by introducing kids to a similar celebration in Japan. She features the friendship between a Native American boy and a Japanese-American little girl. And, yes there is a real recipe for cornbread just like the one served at the first Thanksgiving dinner eaten by the pilgrims and Wampanoag Indians at Plymouth Plantation. Book concludes with the kids sharing their special bread with the VETS. Newly released paperback is ideal for teachers and lesson plans.
"I wanted to explain when and why Thanksgiving became a national holiday! There is an outcry for the need of children's books with diverse characters. Recently, the #WeNeedDiverseBooks tweet went viral. And, I hope my books help to fill some of that void!" shares Handler.
"This is an interesting story - involving Americans, Japanese, and American Indians - that children will enjoy as they learn several important lessons: that each culture has its own way of giving." Dr. Israel Drazin, Reviewer/blogger & Rabbi.
"The Thanksgiving Dinner Platter could well become a seasonal classic!" Reviewer/blogger-Jim Loud.
Randa Handler is an international journalist, publicist, and publisher. In 2003, her publishing efforts launched an educational series of children's books that are still being used as 'lesson plans' by elementary school teachers. She has published four other books to instill in kids an appreciation of differences.
Cubbie Blue and His Dog Dot (Cubbie Blue series; book 1); 978- 1-932824 -23- 0 (ebk), and What's up with Mike? (Cubbie Blue book 2); 978-1-932824-25-4 (ebk), a fantastical series where multi-racial boys befriend and protect tiny creatures. If I Were King ISBN: 978-1-932824-21-6 (hc); 978-1-932824-20-9 (ebk) A fun animal tale about a feisty zebra. And finally, The Boy Who Spoke To God, ISBN: 978-1-932824-18-6 (hc); 978-1-932824-19-3 (ebk), A young Greek boy, in this non-religious folk tale, helps feuding tribes find peace via dreams of a perfect God.
http://www.amazon.com/Thanksgiving-Dinner-Platter-Randa-Handler/dp/1932824529
Email Ravencrest Publishing