Clear Sky Defines some Shocking SEO Stats that Will Blow Your Mind in Their Latest Infographic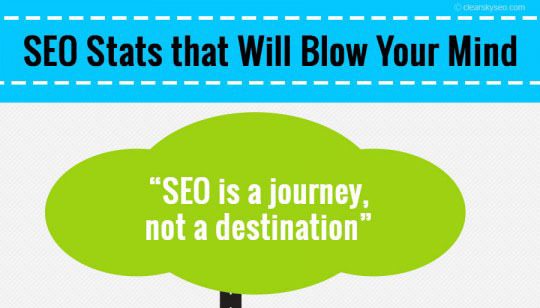 November 6, 2014 - Every few months, the internet is abuzz with expert marketers proclaiming the death and irrelevance of SEO in today's expanding world of internet marketing. However, the team at Clear Sky SEO begs to differ. With their latest infographic, Clear Sky SEO hopes to "Blow Your Mind" with some of the most unbelievable statistics from the world of SEO.
The concept of SEO is a journey, not a final destination. The world of SEO is constantly changing and evolving, and successful SEOs of the world adapt along with it. The key to staying on top of the SEO world and search engine rankings is to follow some of the best practice methods in SEO.
One such method is the shift towards integrating your business's content marketing and SEO strategies. A content marketing strategy that follows the principles of SEO can bring up to a 2000% increase in the traffic to your blog, leading to a potential 40% increase in revenue for your company. Creating unique, knowledge-driven content can help companies improve their readership's engagement throughout their site and blog posts. The end goal of any blog post should be to not only educate your readers, but also entice them to share the posts with their friends through organic links on social media or elsewhere on the web.
SEO is far from dead, and the stats back it up. Of all the links that search users click, 70% of these are from organic search results. Additionally, somewhere between 70-80% of search engine users ignore the paid ads found in search engine results altogether. Nearly ¾ of all search engine users never scroll past the first page of results. The key to online success is getting your brand on the first page of these results through best practice SEO techniques and strategies.
While there are a wealth of marketing opportunities available to businesses today, SEO remains one of the most effective techniques to drive up business and sales. When compared to outbound leads, the inbound leads from SEO cost 61% less. Additionally, SEO leads have a 14.6% close rate, leaving outbound leads in the dust with their closing rate of 1.7%.
With the world of SEO constantly expanding and evolving, it is important to stay on top of the latest figures and trends. Learn more about some of the most shocking statistics in the world of SEO by viewing Clear Sky SEO's infographic at
www.clearskyseo.com/24-eye-popping-seo-statistics-infographic
.
Used effectively, SEO can produce eye-popping results for your business and brand. Bring the advantages of SEO to your company with the affordable search engine optimization services from Clear Sky SEO. For years, Clear Sky SEO has helped several small businesses capitalize on the increased brand awareness and customer engagement opportunities of SEO. Get in touch with Clear Sky SEO today by visiting
www.clearskyseo.com
.