Hispano Sur offers new low cost weight loss surgery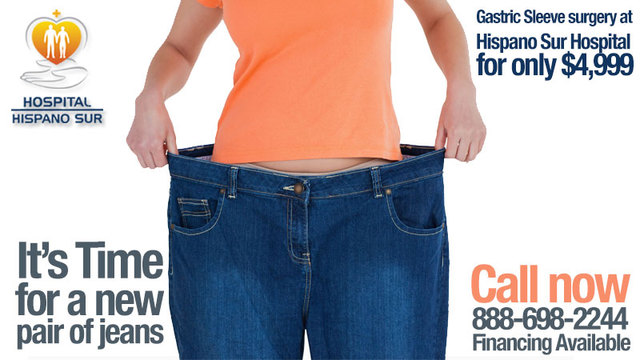 November 13, 2014 -
Hispano Sur Hospital
recently opened its doors to offer cost-effective health care to the community in the Mexicali-Calexico region. And now they just announced new promotions for
weight loss
procedures. The bariatric surgery program at Hispano Hospital is headed by board certified surgeons Dr. Rafael Abril and Dr. Horacio Ham Pujol, two of the most talented upcoming surgeons in the region.
Alexandra Vizcarra, a spokeswoman from Hispano Sur Hospital, said that Dr. Abril and Dr. Ham have gained a lot of experience in the last years thanks to the high workload due to patients from all over the world, mainly the US and Canada, visiting Mexicali for medical treatment, many of them looking for weight loss surgery such as the gastric sleeve. That is why, she added, Hispano Sur has decided to offer this procedure at a lower cost to attend the needs of the community.
With
gastric sleeve surgery in Mexicali
, the stomach is reduced in size and as a result, the amount of food that can be eaten is limited. A study published by the American Society for Metabolic and Bariatric Surgery found that patients who had
gastric sleeve surgery in Mexicali
experienced a reduction of about 30 percent on their Body Mass Index (BMI) after a year, while those who had the gastric band operation experienced a reduction of only 20 percent.
In
Hispano Sur Hospital
in Mexicali, Mexico, we perform this procedure by laparoscopy, which is far less invasive than open surgery. This ensures less patient discomfort and a faster recovery. Patients who had gastric sleeve surgery in Mexicali under
Dr. Abril
have shown a 87% decrease in their excess weight. "We are waiting a very high demand on this procedure due to the quality and the cost", Ms. Vizcarra concluded.