Mexicali Bariatric Center receives certification from Johnson & Johnson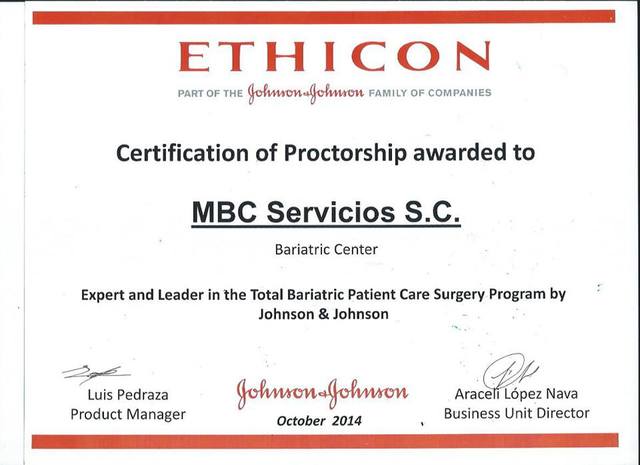 November 14, 2014 -
Mexicali Bariatric Center
was honored by Johnson & Johnson with the Total Patient Care Center proctorship certification. With this recognition as expert and leader in the bariatric field from this prestigious institution,
MBC
continues to train surgeons and institutions from all over the country and Latin America on comprehensive care for weight loss surgery patients.
In Mexico, only 3 centers have been awarded the TPC certification, 2 in Mexico City and MBC at Almater Hospital in Mexicali. MBC was distinguished for this proctorship because of the low complication rates , above average long term results their patients continuously achieve as well as the well rounded program offered to their patients.
Mexicali Bariatric Center
is one of the most recognized bariatric institutions worldwide. It was founded by Dr. Alberto Aceves in 2002 and during the last 12 years the center has successfully treated thousands of American and Canadian overweight patients. MBC has a multidisciplinary team consisting of bariatric surgeons as well as the support of psychologist, internist, nutritionist, patient coordinators, chef, personal trainer and support group. Currently MBC is led by board certified surgeons
Dr. Gilberto Ungson
, Mexico's foremost authority on the Duodenal Switch Surgery, and
Dr. Rodolfo Wilhelmy
, one of the leading weight loss surgeons in the nation.
The
Mexicali Bariatric Center
team is honored to receive this recognition, which adds to the commitment to ensure optimal patient care before and after surgery in order to ensure long-term success in weight loss and on eliminating obesity-related comorbidities.
Email Mexicali Bariatric Center