Revolutionary new drug detection test, for police and schools, instantly detects almost all illicit drugs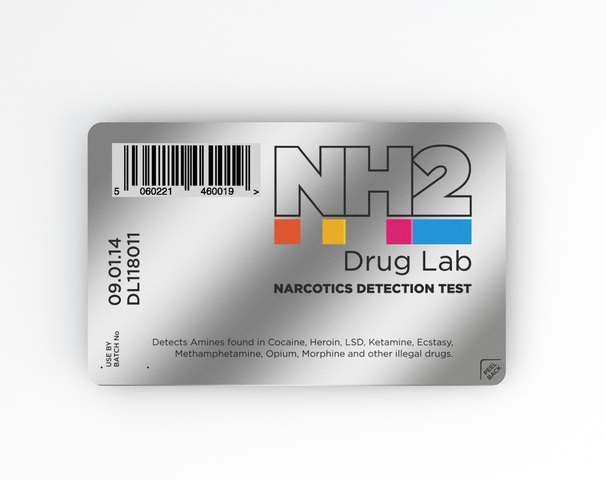 November 18, 2014 - Drug Lab 118 is the developer of a unique and patented drug detection test, the NH2 Drug Lab.
The NH2 Drug Lab is a universal drug-screening test that has been developed to detect all substances based on chemical amines. The NH2 Drug Lab has a wide range of applications with all law enforcement agencies as well as in schools, prison service, licenced premises, probation, border controls etc. and all organisations and environments where the presence of illicit substances could be present.
Most psychoactive substances (and hence most illegal drugs) contain amines. The NH2 reacts to the residue of any substance by reacting to the presence of very small amounts (as low as 1mg) of any drug containing an amine on skin or other surfaces. The NH2 Drug Lab uses a water-based swab and contains no harmful components or chemicals and can be used by anyone without the need for extensive training. It is extremely simply, reliable and easy to use.
All classes of amines can be detected by the NH2 Drug Lab test. An example of the Drugs positively detected by the NH2 Drug Lab include, Amphetamine, (Ya Ba) Cocaine, Codeine, Diphenhydramine, Heroin, Ketamine, LSD, Methadone, Methamphetamine, Morphine, Opium etc.
The NH2 has undergone rigorous independent forensic analysis, and is being trialled by several international police and law enforcement agencies.
Drug Lab 118 Limited, is UK registered company, focused the development of innovative chemical technologies across multiple industries in particular drug and substance detection testing. With distribution teams in over 15 countries and over 10 years experience in the detection of illicit substances, Drug Lab is positioned to create a new law enforcement and consumer category of drug detection testing.
For further information regarding the NH2 and opportunities with Drug Lab 118 , contact the companies CEO, Colin Lyon.