Versatex Provides Instruction and Tips on How to Properly Clean Your PVC Trim Products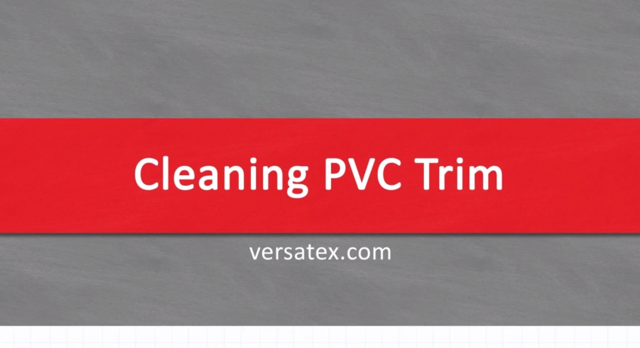 November 18, 2014 - If you have worked with PVC trim in the past during any of your projects, odds are likely that you have become well aware of how well PVC trim is able to resist much of the elements. However, even during installation, PVC trim can become vulnerable to the excess dust, dirt and grime of the construction process. Let Versatex help keep your PVC trim looking as good as new with their latest video, "Cleaning PVC Trim."
Giving your PVC trim a quick clean can help prevent the buildup of any dirt, dust or scuffs it may collect during its lifetime. Knowing the proper technique, materials and products to use can help you extend the life of the PVC trim throughout your home.
To start, fill a bucket with warm, soapy water. Rather than chemical cleaning products, use a mild detergent when cleaning your PVC trim. Some of these chemical cleaners may cause the PVC to crack, break or even stain your PVC trim.
When it comes to scrubbing, be sure you use a lint-free microfiber cloth or sponge. For areas of grime buildup, try using a toothbrush or a soft-bristled brush to help with grime removal. For those stubborn smudges and stains, dampen a microfiber cloth with 70% isopropyl alcohol and hold it on the stain for approximately 30 seconds. After 30 seconds, the stain should easily rub off your PVC trim. If you regularly discover these smudges on your trimboard, try coating your trim in a washable paint that will make it easier to remove any future smudge marks.
After you have removed the majority of dirt, dust, excess grime and smudges along your PVC trim, give it a final wipe down with clean, soapy water to ensure you cover any areas you may have missed. Once this has been completed, go over your trim with soap-free water and leave the trim to air dry.
It is not uncommon for PVC trimboard to gather some dirt during the installation process. Knowing how to properly clean the trim can help keep your clients happy. Learn more about how to clean PVC trim by viewing the video at
http://versatex.com/blog/2014/11/cleaning-pvc-trim-video
.
No matter how you use our PVC products, you are sure to leave your customers satisfied with its carefree maintenance and stylish appeal. Learn more about how Versatex PVC trim can be used throughout the home by visiting
versatex.com
.