The Ellis Hotel Helps Traveling Families with Their Latest Infographic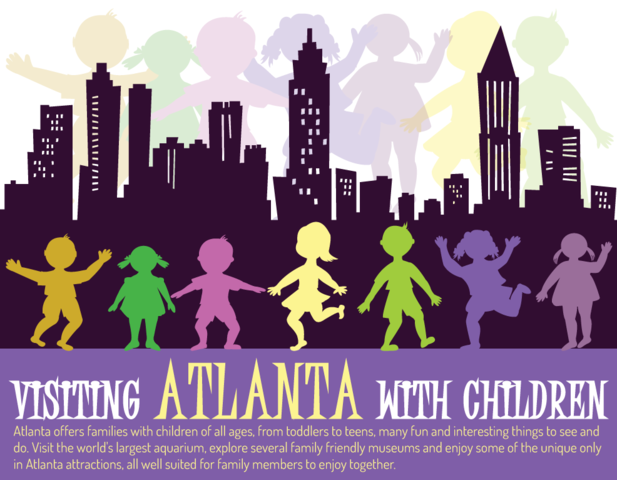 November 22, 2014 - Planning a vacation that is suitable for the entire family is no easy task. With varying ages, interests and more, keeping your children entertained throughout a vacation can be a strain on the minds of any parent. The Ellis Hotel hopes to help these parents gain a little more relaxation with their latest infographic, "Visiting Atlanta with Children."
The city of Atlanta makes for the perfect destination for families all across the country. With a beautiful year-round climate, rich history and wealth of attractions, it is easy to see why the city attracts nearly 45 million visitors each year. No matter how big or small, young or old your family may be, there is always something interesting to do in Atlanta.
Booking your accommodations in downtown Atlanta puts you in the middle of all the action. No matter where you turn, there are plenty of attractions throughout downtown Atlanta that allow visitors to immerse themselves in all that the city has to offer. Here's a quick sampling of just some of what Atlanta has to offer.
Centennial Olympic Park, in the heart of downtown Atlanta, provides the perfect setting for children of all ages to explore and freely play. Home of the world's largest interactive fountain and much more, this 21-acre park is host to dozens of year-round attractions and events that are sure to entertain any member of the family.
Across from Centennial Olympic Park, The World of Coca-Cola takes guests into a fully immersive and interactive behind-the-scenes look into one of the world's most recognized brands. From taste-testing stations, memorabilia and more, The World of Coca-Cola is filled with attractions to keep the whole family engaged for hours. Located just minutes away from the World of Coca-Cola is the Georgia Aquarium. Home to over 500 aquatic species, the Georgia Aquarium is sure to impress children of all ages and their parents.
For the younger children in your family, be sure to check out the Imagine It! Children's Museum. The museum is filled with several attractions that promote interactive learning and play for small children, allowing them to explore their imagination through a number of hands-on activities and play zones. Atlanta's Center for Puppetry Arts also provides small children with the opportunity to learn, interact and even create their own puppet. In addition to their museum, the Center for Puppetry Arts hosts a variety of performances throughout the day that are perfectly suited for every family.
These are just a few of the several attractions available throughout the Atlanta area. Get started on planning the family vacation of a lifetime by visiting
http://blog.ellishotel.com/visiting-atlanta-with-children-infographic/
.
Located in the heart of downtown, The Ellis Hotel is a surefire choice for your family accommodations in Atlanta. A stay at the Ellis Hotel allows you to stay mere minutes away from some of the city's most popular attractions and must-see destinations. For more information on the packages and features offered by the Ellis Hotel, visit
www.ellishotel.com
.