Don Gardner Details the Home Building Process in their Latest Infographic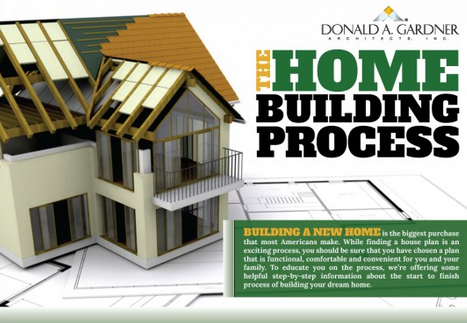 November 27, 2014 - If you are building a new home, first off, congratulations! You are about to embark on one of the most significant journeys of your lifetime. From choosing the right home floor plan and finding the perfect builder to the actual building of your dream home, a lot goes into the building process of your new home. Prepare yourself for the road ahead with help from Don Gardner's latest infographic, "The Home Building Process."
One of the first decisions you will make along the building of your new home is settling on the final design for your home. Choosing the right home floor plan is an exciting process, filled with an endless amount of modifications and different home floor plans to fit any personal style choices or designs you have envisioned. Prepare yourself for your search by listing out your favorite features and specifications for your dream home, helping you narrow down your search for the perfect floor plan.
Once you've settled on a floor plan for your new home, the next step is to choose a builder or a contractor. Some home floor plan companies can help you with this process, providing you some information on local builders in your area who have experience building their home floor plan styles. No matter who you choose, make sure that your builder has proper licensing in place and check out some of their latest work. Take your time in choosing your builder, as his or her work ethic and level of artisanship will ultimately determine how your home looks.
After you've made a decision on your floor plan and found a local builder for your home, the actual building and construction of your home can take place. Having a better understanding of the building process can give you an ideal timetable on when your new home will be completed.
Throughout the building process, keep in close contact with your builder to understand how far along your home has come. Several inspections and preparations are made along the way to ensure that your home is suitable for safe, comfortable living. When it comes time for the final walkthrough of your home, be sure to ask your builder any questions you may have before settling into your new home.
As always, gathering as much information as you possibly can about the building process will go a long way to ensuring your satisfaction. Gain a better understanding with an in-depth look into the home building process by visiting
http://houseplansblog.dongardner.com/infographic-home-building-process/
.
With over 30 years of experience in the industry, the experts at Donald A. Gardner Architects work alongside you every step of the way, ensuring your satisfaction in the building of any one of their home floor plans. The friendly staff is more than happy to assist you in any way possible, offering an extensive amount of resources and assistance to help turn your dream home into a reality. Learn more about how the Don Gardner team can simplify your search for your dream home by visiting
www.dongardner.com
.
Email Donald A. Gardner Architects, Inc.