EverSpark Interactive Offers College Scholarship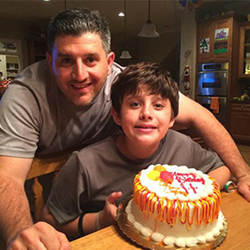 November 27, 2014 - EverSpark Interactive, a full service digital marketing agency, announced the offering of a new scholarship for college and university students this week. The scholarship will assist one high-achieving student with epilepsy complete their studies and begin their chosen career.
The EverSpark Interactive team believes that conditions like epilepsy should not be a barrier to a student's success. According to the
CDC
more than 450,000 children ages 0 – 17 are living with epilepsy (retrieved 11/23/2014). Each member of the EverSpark Interactive family is dedicated to helping students with epilepsy overcome challenges and earn a degree.
"This is an issue near and dear to our hearts," says EverSpark Interactive co-founder Jason Hennessey. "My son JJ lives with epilepsy and I am witness to some of the obstacles he faces every day."
Hennessey says that as a parent of a child with epilepsy, he wants nothing more than to see his son succeed in life. Hennessey has found himself in a position that allows him to offer assistance to children who may need it.
"Epilepsy, in all of its forms, presents challenges for people at any stage of their lives, but particularly for students who are trying to complete their education and begin a new chapter in their lives."
The JJ Hennessey Scholarship will award $1,000 to one high-achieving student with epilepsy, residing anywhere in the United States. Applicants must be currently enrolled in or recently accepted to an accredited college or university. Applicants must also have been diagnosed with epilepsy in any of its forms.
"We would like to see higher education accessible to everyone, regardless of ability or condition," Hennessey says. "We encourage any eligible student to apply."
Details of the scholarship can be found at:
http://www.eversparkinteractive.com/honorary-epilepsy-scholarship/
About EverSpark Interactive: EverSpark Interactive is a full services digital marketing agency that offers an array of services which includes website and blog development, social media marketing, mobile marketing, search engine optimization, and website migration.
EverSpark Interactive 6 Concourse Parkway Suite 900 Atlanta, Georgia 30328 (770) 481-1766
Email EverSpark Interactive